Disclosure: Ad – Gifted – Stationery box from Notes & Clips.
I am very excited about this blog post as I can finally let you know about a brand that I'm going to be working with for the next couple of months. I have bought from this shop before but it has evolved so much since I last bought from them. I still have some of those stickers in my stash.
I am also really happy to say that I will be a brand ambassador for Notes & Clips for the next couple of months. Along with some amazing women please do go check them out, they are @themummythateats, @fafington, and @mrsshilts.
But today I have one of the many stationery boxes that Notes & Clips offer. Each one is unique and stunning. I have the Green Chevron to share with you today, it's almost like Linda knew this one is my favourite to the boxes.
Everything in this box screams luxury from the moment you take it out of the envelope! Linda really has thought of it all!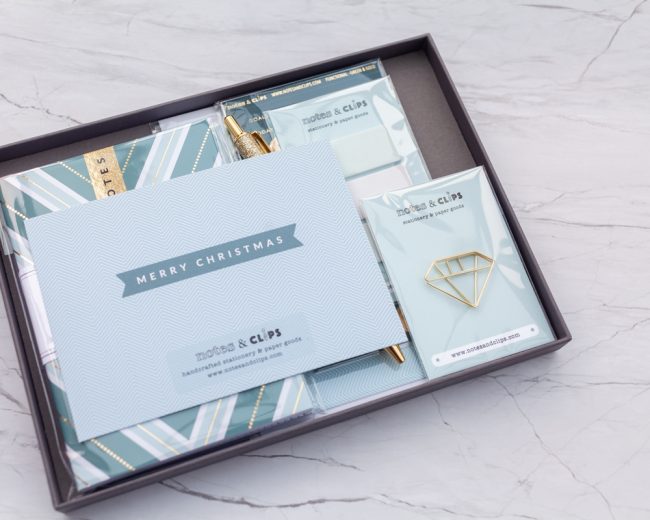 The card that is included can also be personalise, so if you want to include a message to someone that is possible. The other great thing about these boxes is that they fit through your letterbox so they can be posted to who ever you would like! Making them a great gift for your stationery loving friends.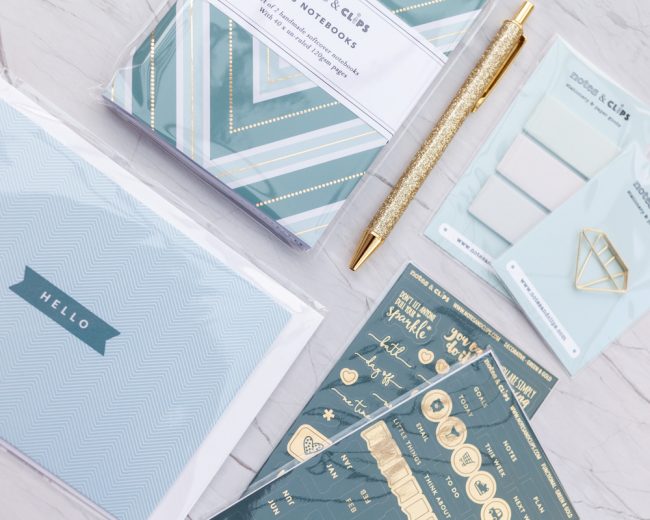 What's included?
1 x Dark Grey luxury hard-cover and re-usable presentation box complete with removable felt base.
2 x A6 Green and Gold Chevron themed softcover notebooks with 40 x 120gsm blank un-ruled pages inside.
1 x Stunning gold powder glitter pen
1 x Gold diamond-shaped paper clip
1 x Green chevron greeting card with a gorgeous white linen envelope
1 x Set of 3 sticky notes in gradual shades of mint green
1 x Green and Gold foil Inspiration & Self Care sticker sheet
1 x Green and Gold functional sticker sheet complete with foiled tabs
Plus
1 x Personalisable sentiment card (enter a note in Order Notes at checkout).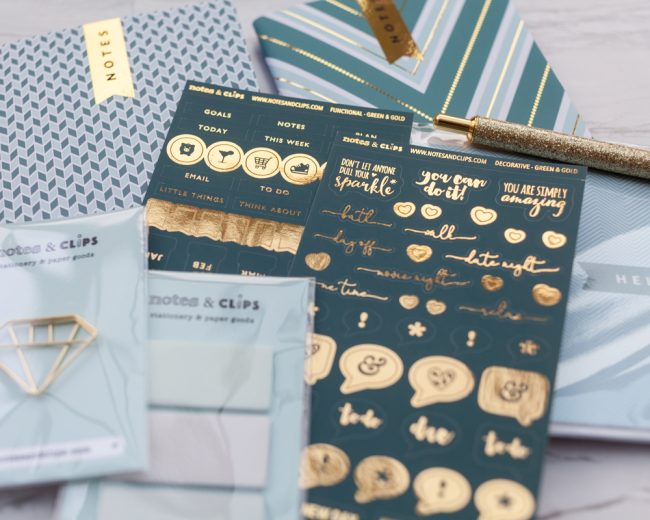 The colour of everything in the box is a gorgeous set of greens. From fresh minty tones to dark forest greens, and I must say that the dark green against the gold is really stunning.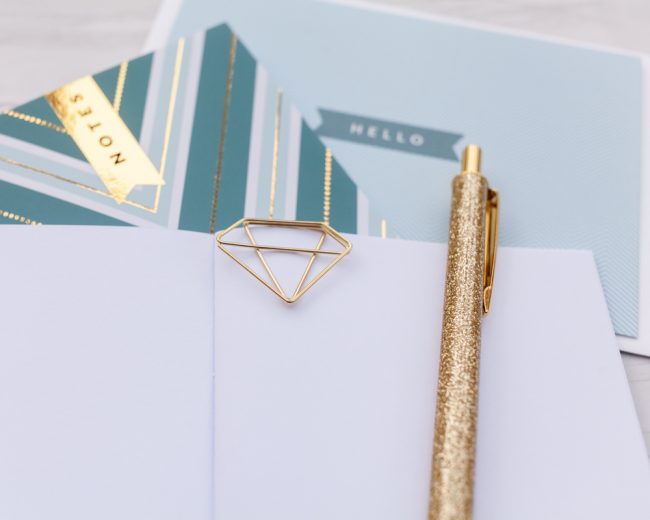 These little a6 books are also perfect for on the go journaling or memory keeping. You could easily do a photo a day for a month in one of these. Oh or maybe a December daily. Plus you already have a pen that complements the books and a paperclip to keep your place.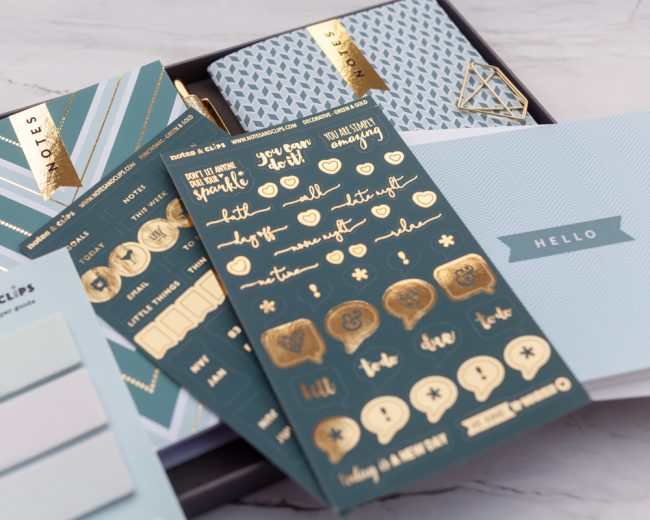 These really are a great little gift set for any stationery lover. I am also really excited to be sharing these with you as I am working with Linda as a Brand Ambassador and I have a bunch of stickers and foil to share with you along with a discount code. Use SAM10 at checkout for 10% off everything over at Note&Clips.
I can't wait to share more with you and don't forget to follow me over on Instagram to see when things arrive!