Last year was a good year for the garden. I know using the word good to describe 2020 may seem a bit strange but it was a good year. (Don't mention the event) But in March of last year, I decided to get my veg plot in order and I loved tending to it. Yes it was a bit shitty and the plots were made out of random cuts of wood that I had but it worked.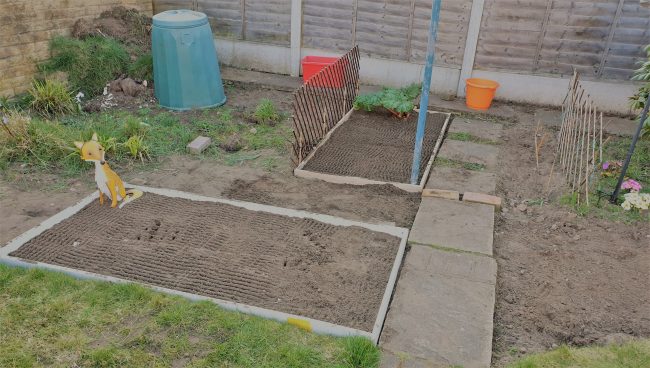 April came round and the seedlings that I had planted had started to get big enough to transplant outside into the shit plots. And my first harvest of radishes was coming along nicely. I may have planted too many but the mother in law was happy to have some.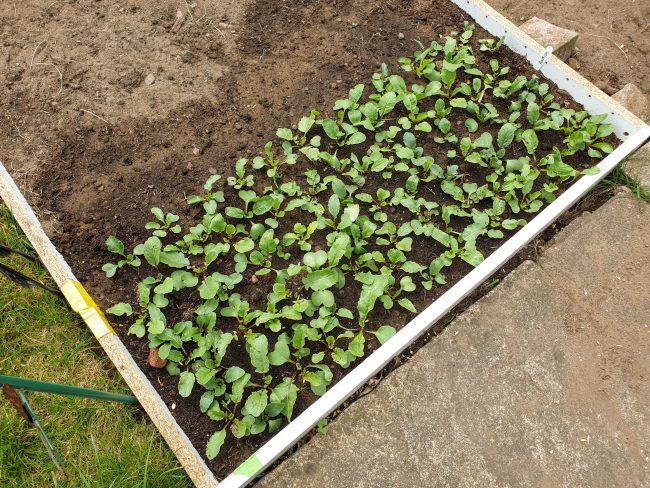 In the middle of May the hard work in the garden really started to pay off. So many plants were changing on a daily basis and seeing what I would be getting from each plant was exciting to see.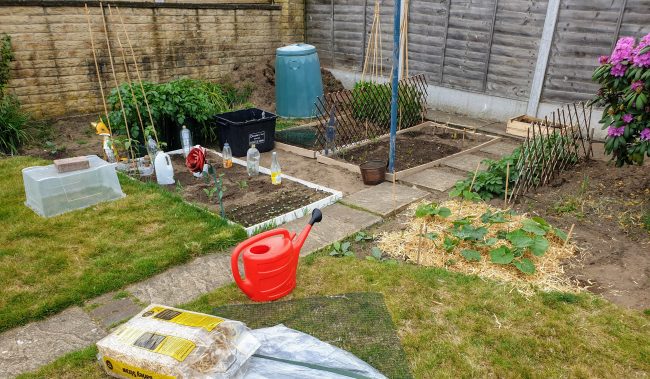 I was spending as much time as I could outside the weather was lovely pretty much every day and looking after the garden very much became my break for the tech world. I took lots of photos so that I would have a reference for this year and what I would expect at each time of month. And more importantly where I went wrong.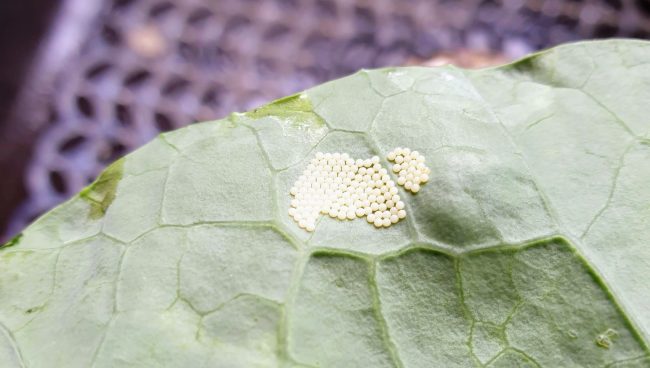 I also started to learn about the pests and what to look out for. Eggs hidden on the underneath of leaves and miners that were digging through the leaves of my chard. By this time I had joined a gardening group on Facebook and it was a massive help to have people to question. But in June I got my first courgette!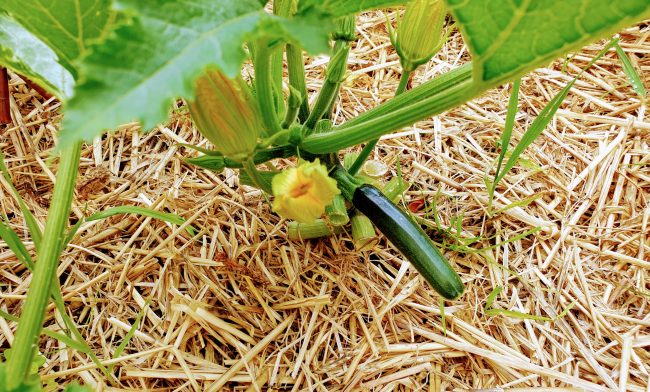 I also had to learn how to pollenate courgettes as well in order to have a best harvest something that I would not have known without the garden group. The garden was in full swing and I was harvesting pretty much every other day. I had so much that I ended up sharing with my neighbour who was also trying to grow her own stuff. But not having a lot of luck.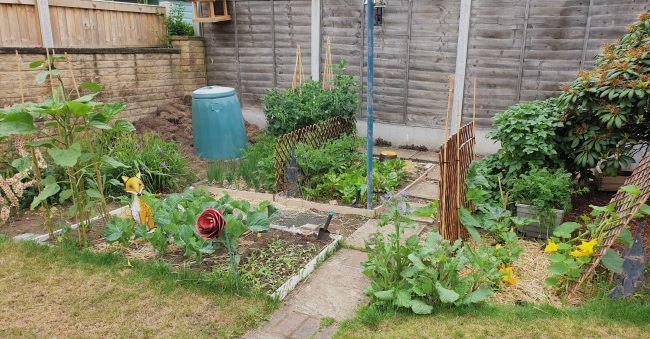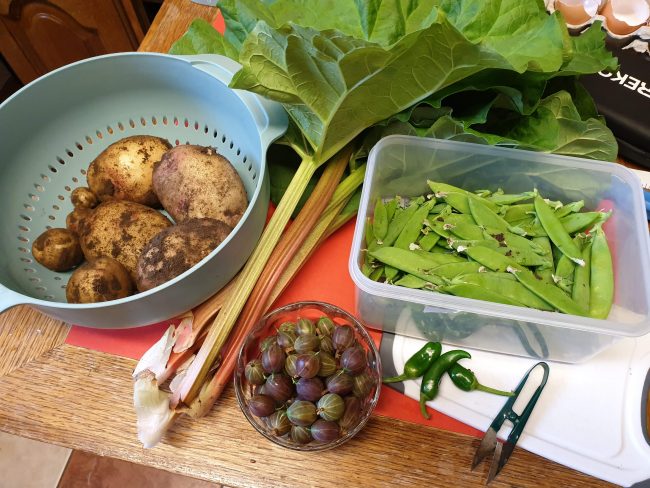 There was so much happening in the garden and some of the plants were just producing so much food and then others were a bit more difficult like the spaghetti squash that I had and I am trying again this year so ask me why. It was such a drama queen but delicious when we finally got to harvest it.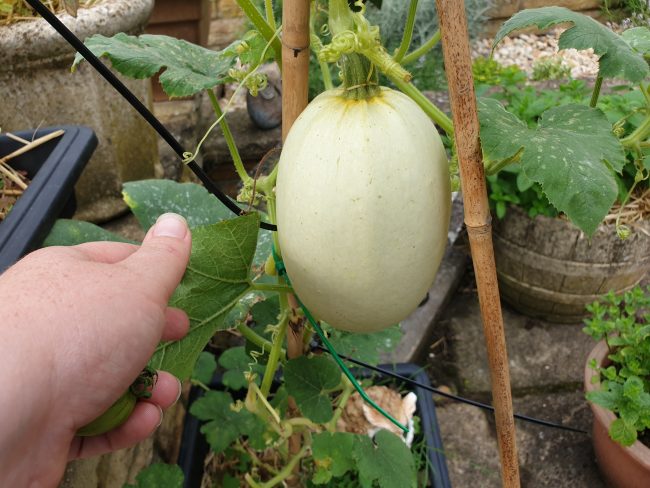 October came and the garden started to close down for the winter and the finally harvest and clearing of the space started to happen but to be honest I was really chuffed with what I had done that year.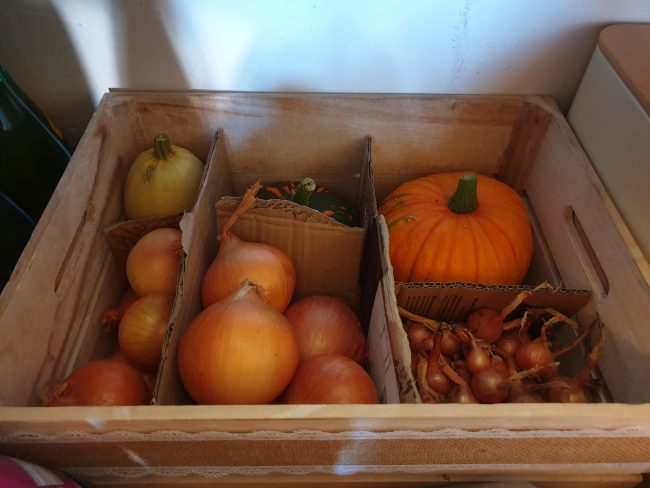 So much so that I started to plan this year. I took measurements and figure out what beds I could fit were and I started to make a list of the crops I wanted to do this year. One thing that I knew I wanted to grow this coming year was garlic but that needed to be planted in Oct/Nov time so I needed to get some beds in asap! So the great clear out of 2020 started and I found dom inexpensive raised beds from B&Q. I had fence paint so I slapped that on to protect it a bit.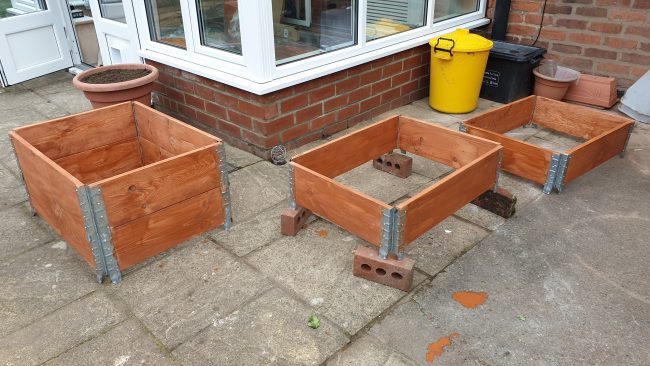 This took a while! I did a lot of back and forth to figure out where I wanted the beds and which garlic was going to go where. Also, how was I going to fill them all! That was a challenge in its own right! So padding out the bottom with some chunks of dirt that had been rotting down in the corner and then digging out the beds that were there sifting it to make sure all the rocks were out of it. It took a while!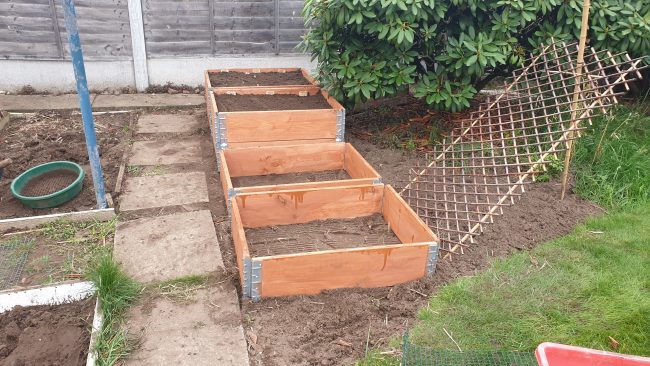 But Jono and I did it! We got a couple of beds in place and filled and got the garlic in the ground! Now what we needed to do was to clear the rest of the space for more beds. Now I am not going to lie this was a process and the approach we took was, if it is a nice day and we can work the ground, get out and done something.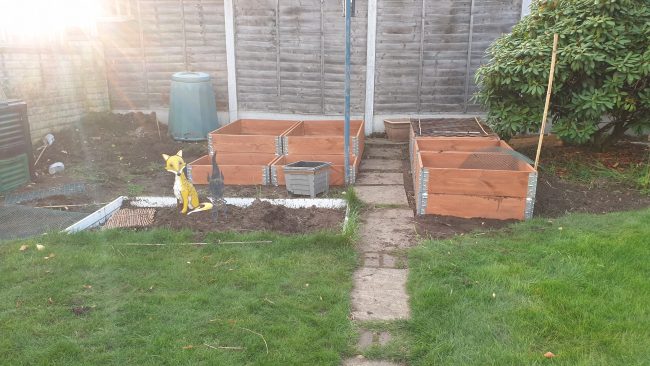 To be honest this approach worked. little by little we could see our vegetable garden come together! But there was still a long way to go and the weather was not on our side. So where in the middle of December we managed to the bottom of the front three beds in place and reduce that pile of dirt in the corner.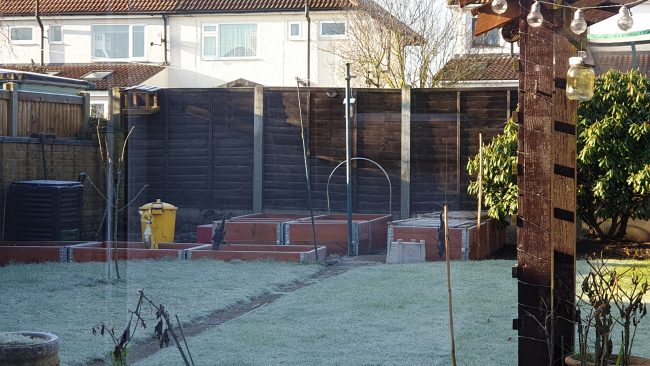 It was taking a long time to get to a point where we could call it done and to be honest it still isn't done there is a lot of dirt still to put in the beds. At some point, Jono and I decided that we weren't going to get a big fancy greenhouse and decided to get a £60 one-off Amazon and have that as our test run for project garden 2022. And to be fair the greenhouse we got is not bad it seems solid enough. And because I had started to buy seeds and think about where I was going to plant things I needed a way to keep track of things, enter the Garden Planner!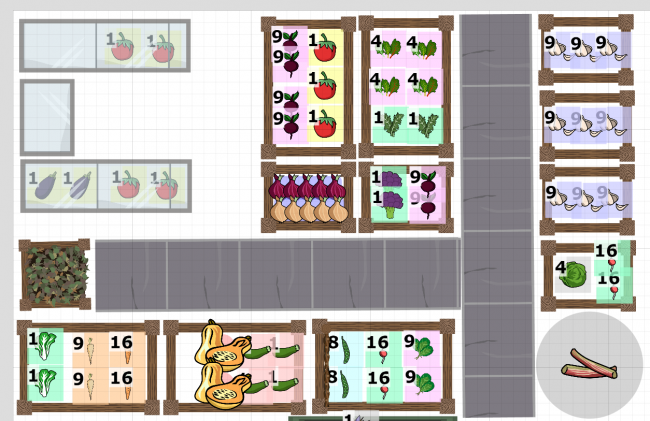 I am so glad that I found this piece of kit! seriously this is the best thing I could find. I didn't want to have to keep updating a physical planner. I know what's wrong with me. But with this I have all the info in one place and I can create and tweak my garden year after year! So I knew where I was going to plant everything but the garden was still not finished! In January though I stubborn Girl'd my way to near completion!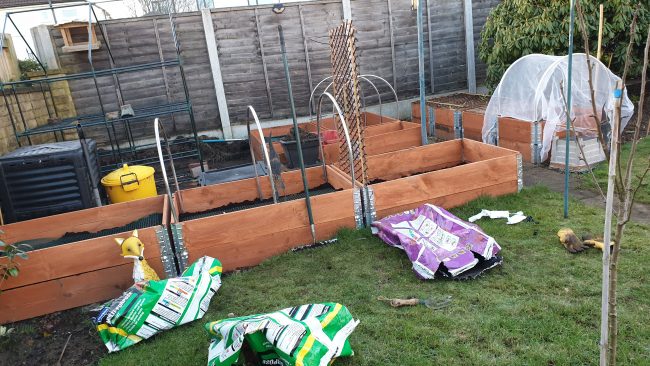 I got the back corner emptied and the top of the front three beds painted and in place. Jono put a bunch of food scraps in to give the ground some nutrients and I dumped a bag of compost on top. The Greenhouse frame had already been built over the weekend and we just moved it into place. I just needed to get the cover on. This was hard because I am not tall. So the struggle was real!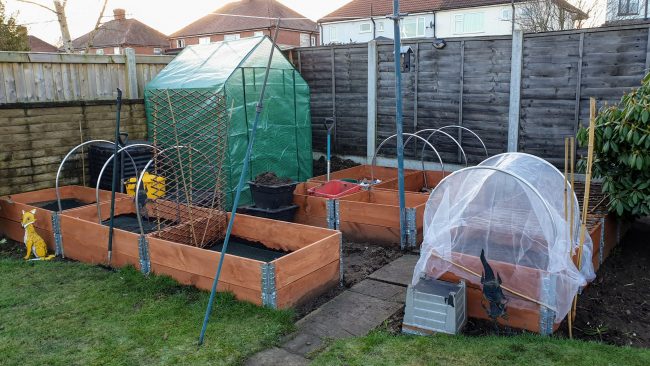 But I did it! I got it on tied it down and I have layered a bunch of bricks at the bottom to weigh it down and I have some tomato bags coming to add more weight! Yes the beds still need a bunch of dirt in them but the basic structure of the garden is there! And ready to start using. I still have to move the small greenhouses but for the time being it is done! I am so glad that it is done and that I now get to start working on this years crops. Oh and two days after I had spent a good 5 hours getting this all done it snowed!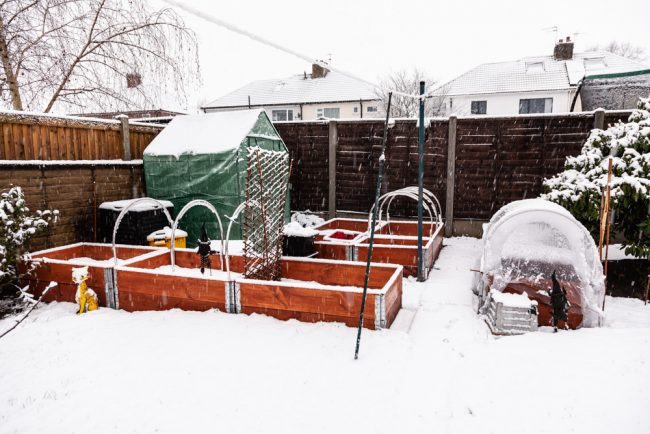 It's a wonder what 48hours can do! I shall be sharing my ups and downs here on the blog so keep your eyes peeled for more updates!