I am still loving my bullet journal and I'm going to continue to use it in June as well, however, it's going to take on a slightly different look. I wanted to share my set-up with you guys to maybe spark some ideas for you, I will say have nicked a spread off of Claire this month as well. I have decided to set up my Jane' Agenda dot grid notebook. Let me show you the cover that I am going to be using in June.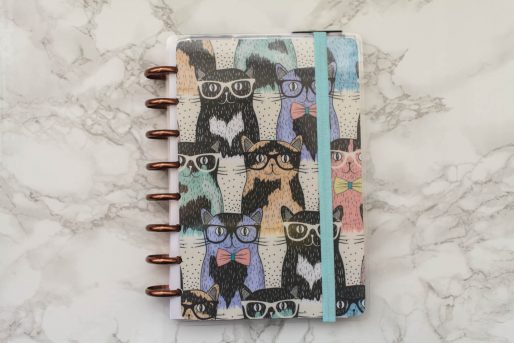 How adorable is this cover! When I saw it on Janes site I just had to have it! This is called nerdy cats, it comes in a variety of sizes and they are all just as cute. I think you can also get this personalised as well, I will double check with Jane. Next up is my month set up.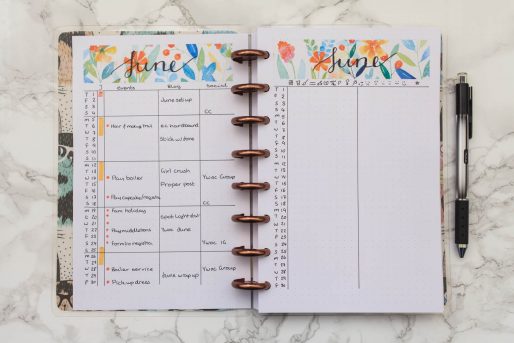 I went with a simple layout for this months overview. I spilt the month page into three columns, personal, blog and social. So that I have an overview of everything that I need to keep an eye on. I then on the other page I have a task tracker and a feeling tracker and I'll make any notes on my dailies.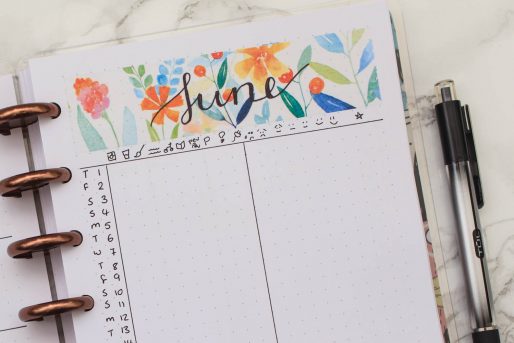 Here is a closer look at my tracker, instead of writing the habits out I have drawn a few icons to denotes what I'm going to be tracking. So from left to right it is, Instagram, hydration, 15 min clean, swimming, bike ride, read, game night, brush patch, lights out at 11:30 and unplug by 9 pm. And then on the right, I have my mood feeling, when I mark a star it will correspond to a note on that daily.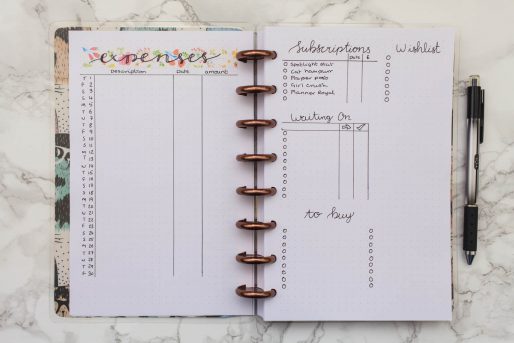 The next spread is my expense trackers I got the idea for this off of @mylifeinabullet I was watching one of her youtube videos and really liked all this layout and thought I would try it out this month and see how I get on. With the wedding coming up I need to focus on getting stuff paid!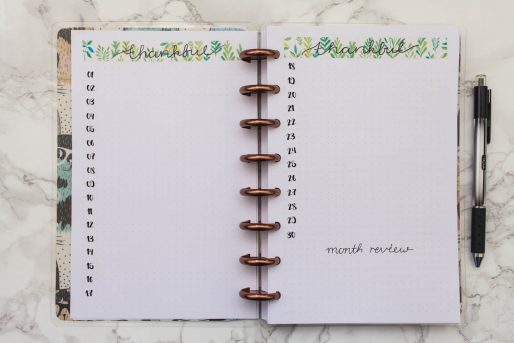 Next spread helps me take 5 mins out of the day to just to sit and think over my day and pick out one thing that I'm thankful for or something that has just made my day. Then at the end of it, I can do a month review of everything that has happened that month.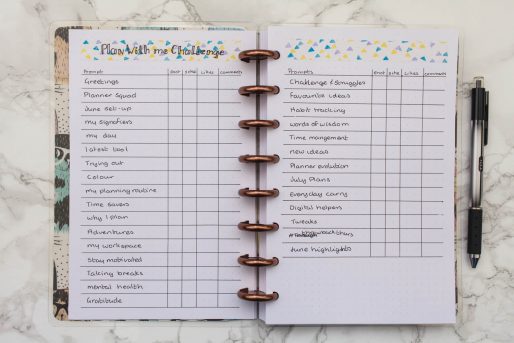 Now, this is the spread that Claire used back in March and I thought I would give it a go for this month's Plan With Me Challenge. I love this as it's a great tracker and I can't wait to start filling this up. I'm really happy with this months set-up.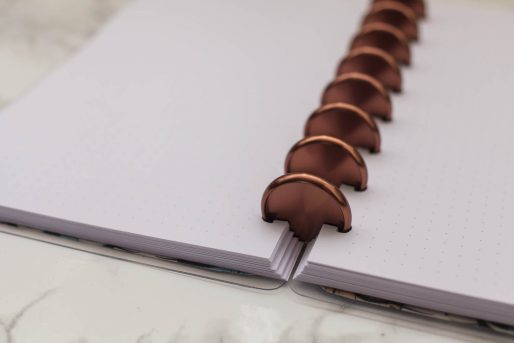 Jane also has in the shop a variety of different metal discs available I have the copper ones on at the moment though I am tempted to change them out for the gold ones. I like these because Jane call's them "grown up rose gold" haha. Love that! So, how are you setting up your bullet journal this month? I would love to know!
That's all from me today! If you like what you have seen here make sure you hit that follow button on the left to get notifications whenever I post bloggity stuff. And you can follow me on Instagram @samplanslife.
Laters!
Sam