I have been looking at the Filofax Notebooks for some time umming and ahhing about them and the colours on offer. Don't get me wrong there are a ton of patterns on offer but none of them really "spoke" to me until this past fortnight when Filofax launched their pastel range and I saw the Vista Blue! I instantly new that that blue would be the perfect one for me to get and use as my bullet journal. I have had it a few days now and I have gotta say I am really liking it. This is going to be a photo heavy post as I am also going to show you how I have set it up as my bullet journal. Let's go!
Outside the notebook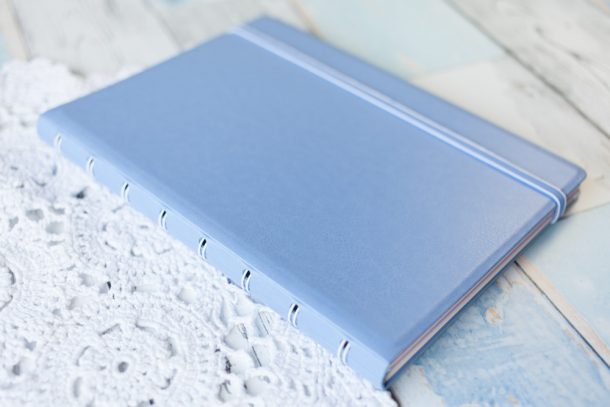 This may look like a small notebook but it has some great features and there are some flaws but we will get into those. The cover has a nice texture to it and feels sturdy but has some give for flexing. Keeping the book closed is a nice thick elastic that coordinates with the cover colour.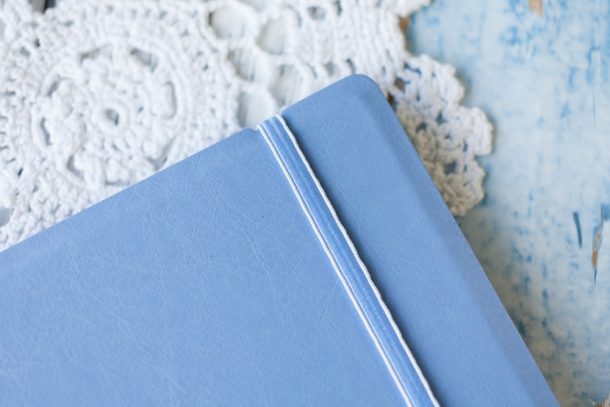 Unlike other notebooks that have this type of closure, the Filofax has a little notch where the elastic sits to keep it in place and this helps to stop the elastic being tugged in your bag and opening your notebook. I don't know about you but looking in your bag to find bits of paper everywhere because your notebook has come open is a tad annoying. I have high hopes for this feature.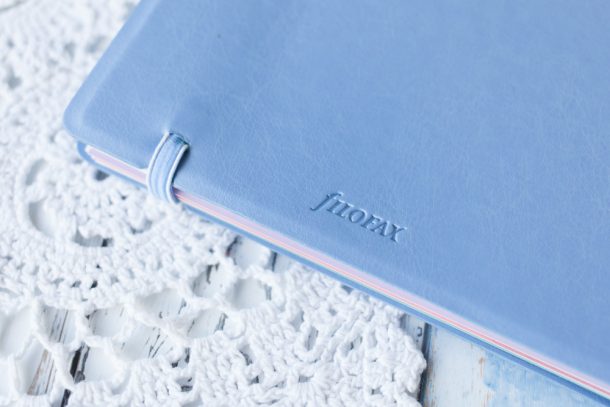 On the back, there is a nice and simple emboss of the Filofax logo. It's the only bit of branding on the notebook, there is nothing inside to say that it is a Filofax. You can also see that the back cover has that notch to keep the elastic in place.
On to the insides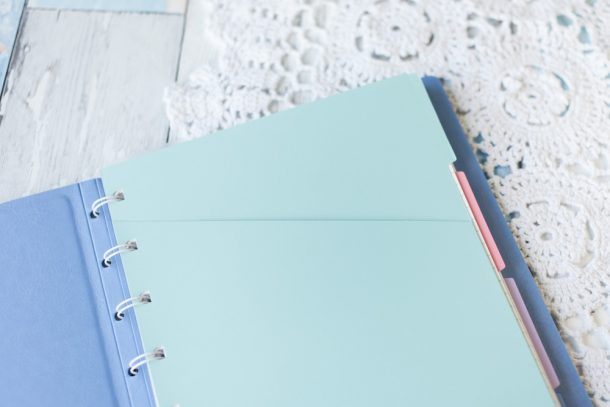 Included in the notebook is 58 sheets of lined paper and four dividers, one of which has a pocket to keep loose notes or receipts in. These are made of a nice weighted card, you could always change these out be you would need to get the punch for this as it is a unique binding. Not a deal breaker but I will be getting the punch as I like to add in notes to my folders.  Speaking of the binding, here is a close-up.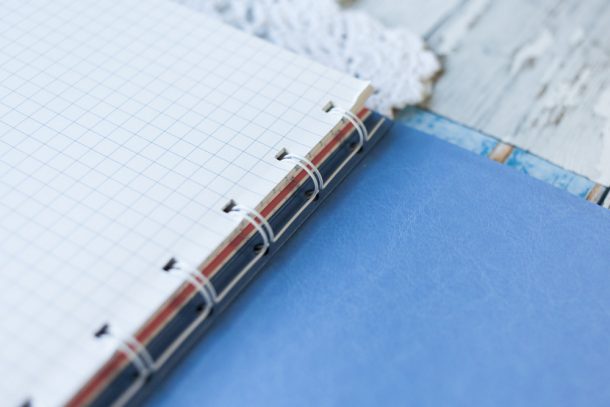 It's a twin wire spine that allows the notebook to fold back on its self and lay flat. I must admit that I am a little worried that I am going to squish this, it's not the heaviest gauge wire but it lends itself to the slimline nature of the notebook. We shall see!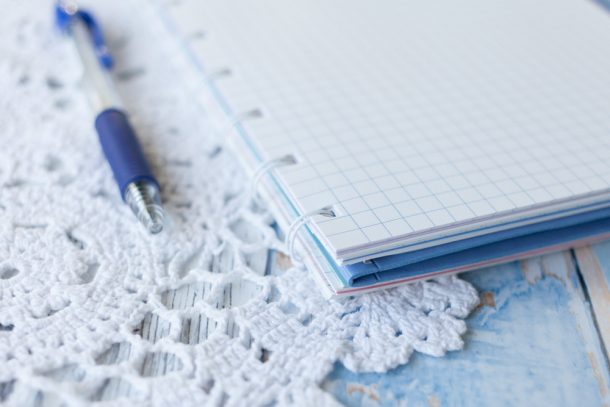 The notebook folds back on itself really nicely though and because of the way the spine has been scored the cover doesn't squish but rather flexes into place to allow you to write on the notebook when like this.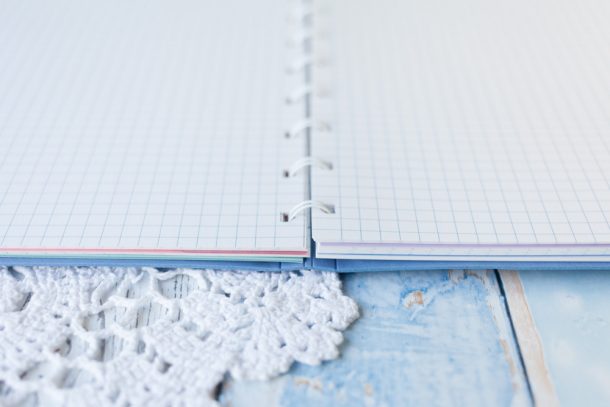 The notebook also lays flat and because the twin wire spine is on the slim side you don't really notice it when writing up against it. This is a huge bonus for me, I often feel like you have to adapt the way that you write to be able to fully utilise the whole page.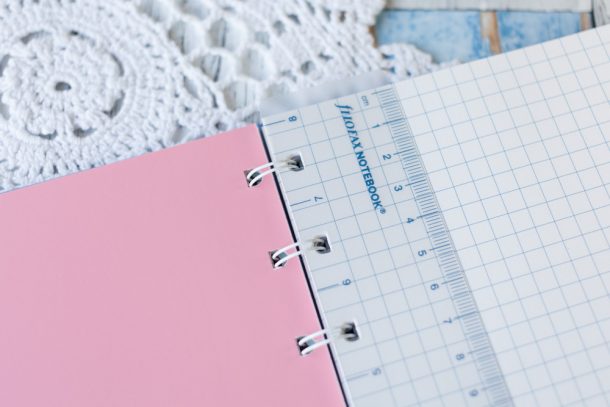 Not only do you get 58 sheets of 100gsm paper, which is really nice to write on with my Pilot G-2, you also get a ruler/bookmark included. I must admit I don't like this bookmark, it is incredibly thin and very flexible. It's not a deal breaker by any means, I just wish it had a little bit more of a weight to it because I feel like I am going to end up snapping it.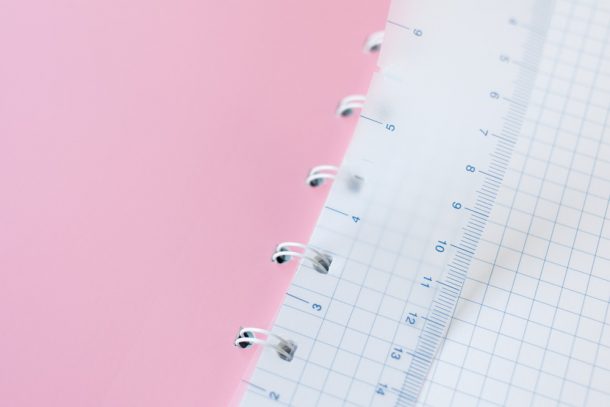 When you pull it out of the book you can really feel the delicacy of this ruler, I may need to make my own. But I'll see how I get on with this one for now. You never know it might last ages.
Mmmm Paper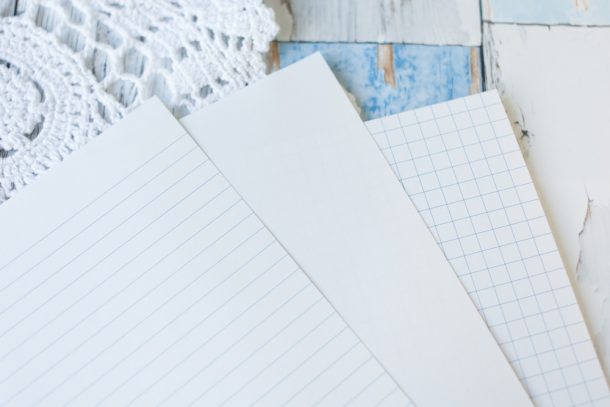 Along with the sheets included in the notebook, you get 4 sample sheets of lined, plain and grid. Which I think is great, it means that you can test out these pages without haveing to buy the refills, I did, however, know that I was going to use this as a bullet journal so I did get some refills to tide me over. The paper is easy to remove and put in and because of the weight of the paper, I have yet to have it tear on me.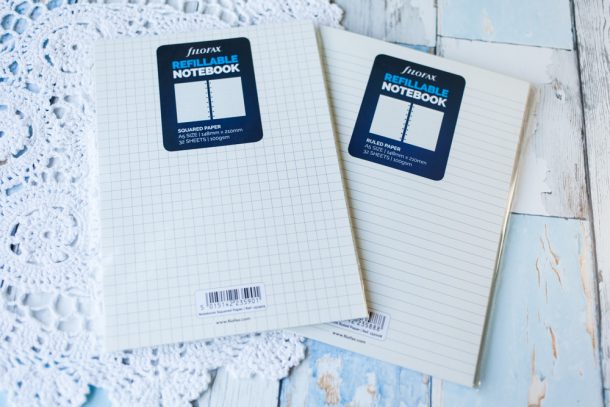 You get 32 sheets of the same 100gsm paper, not enough to fill up the notebook but enough to last you the month at least, depending on how many pages you use in that month. The grid paper has a 6mm square on it, which I'm not used to but I like the size of it. But this does also mean that there are fewer squares per page.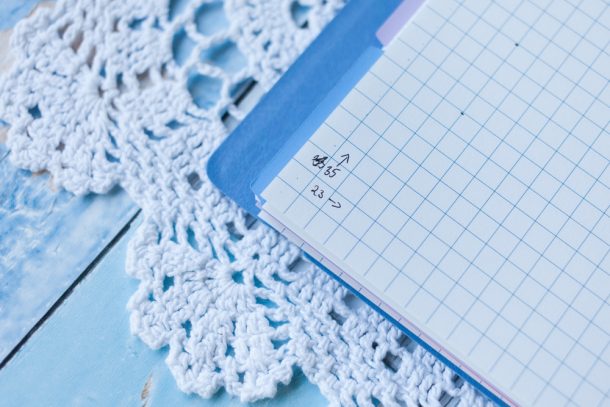 Some of my calendar spread are going to be a bit tight but I'll get used to it. The last thing I will note about the notebook is that there is no pen loop but this is not the end of the world as I have just been hooking my Pilot G-2 onto the spine of the notebook.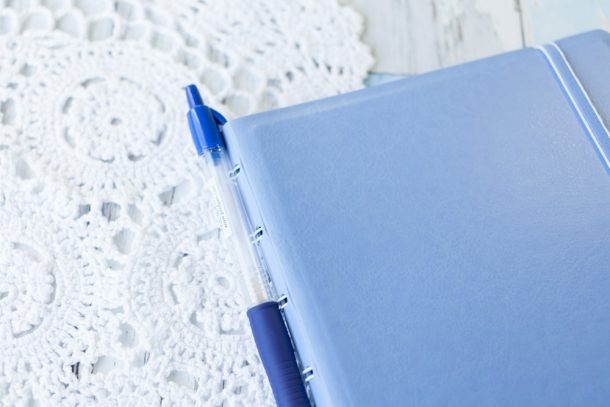 Now into the setup of this notebook as my bullet journal. There are four sections in this due to only having four dividers. So the first section is my trackers, collections, and monthlies. The second section is my dailies, the third is notes and blog notes and the fourth is where I will be taking notes for my wedding. Let me show you what's in my first section.
Time for the setup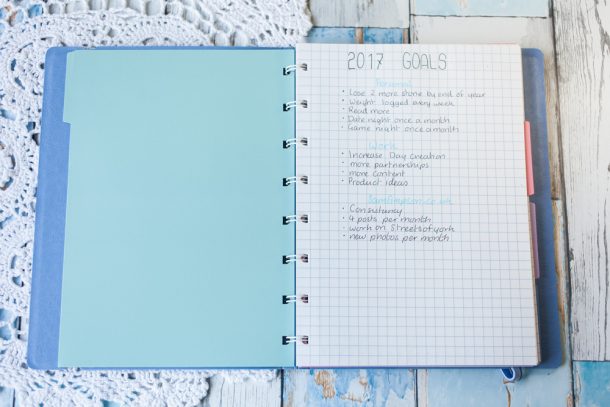 At the front, I have my 2017 goals for three aspects of my life, personal, work and the blog. These are things that I want to achieve this year and to make sure that I stay on track I have them up front and center. Next, I have my weight tracker to help me stay focused on this, I have a graph that I'll mark on each Monday when I log my weight on my Fitbit and I'll also be making a note of how I have felt this past week to make sure I stay on track. You can read about my weight loss here.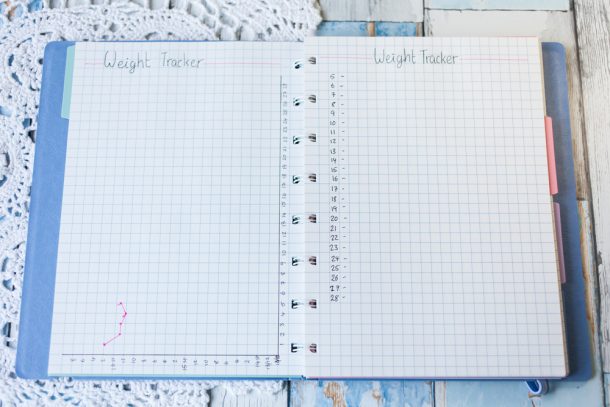 Next is my reading log. I want to read more this year. I use to reading loads, I'm talking about 4/5 books a month but now I'm lucky if I finish one in a month. I also want to see what types of books am I reading, sci-fi, history, fantasy, self-help. I want to make sure that I don't binge on any one genre otherwise I get bored of it.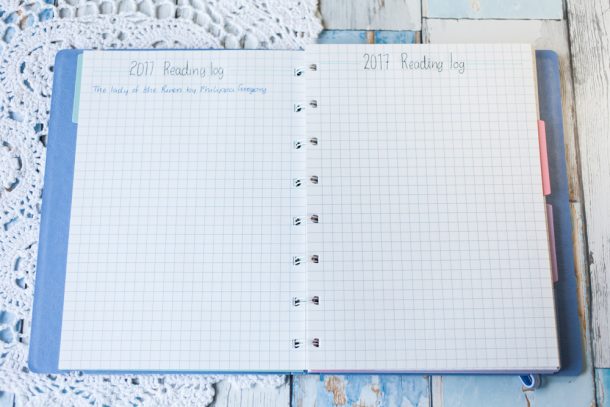 Next is my monthly and tracker, super simple nothing fancy to start with.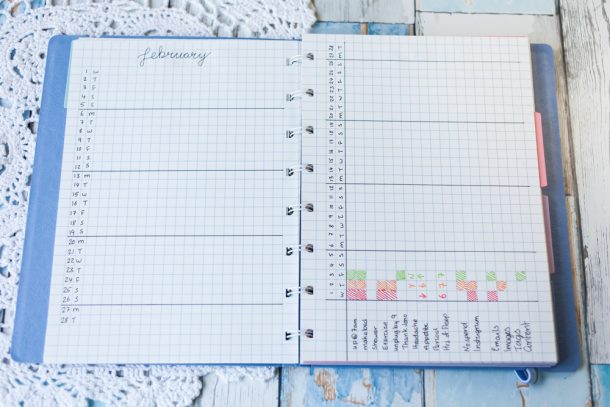 One thing I did notice when setting up this notebook is that the pages would catch as I was turning them, this could be me just not use the pages yet or that I might have too much paper on the spine but I wanted to mention it.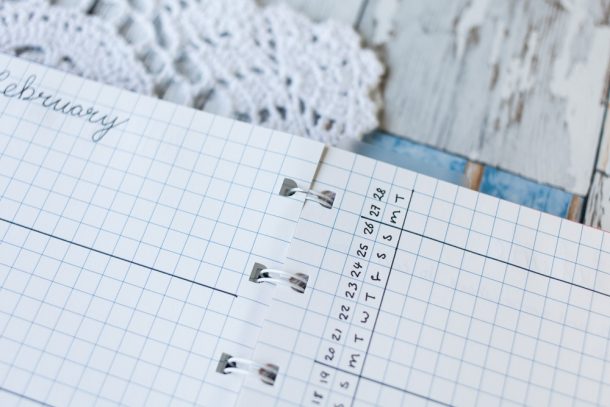 And then lastly I have a gratitude log, I really miss sitting down at the end of the day and setting up the next day but taking the time to think trough my day of what I am grateful for. Normally it is something that Jono has done for me or something to do with my friends or family. I really want to expand this a bit more and think about how it effects me.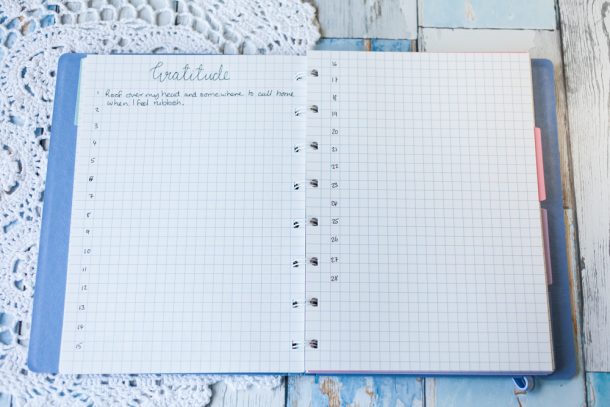 And that is it, for now, the other sections don't have anything in them yet, well the wedding sections has some notes on my vows but other than that it is pretty empty. Oh, I do have one page in the back to test pens on but thats it and I'll do a seperate post about the pens I have used and how the paper has held up to them.
Links to everything in this post are here:
That's all from me today! If you like what you have seen here make sure you hit that follow button on the left to get notifications whenever I post bloggity stuff. And you can follow me over on Instagram (@PlanningwithSam) to see how I get on with this notebook.
Will you be getting one of these notebooks? What will you be using yours for? I would love to know, leave a comment down below.
Laters!
Sam