I am quite excited to be sharing this with you. I know that a few of you may have already had this month's box. But, I wanted to share this with you as I have yet to find another crafty box that offers you as much as the Crafty BonBons box.
The box was started by the lovely ladies Ali and Debbie. I have been a big fan of Debbie's since she opened BonBons Kawaii in 2014. And Ali, I meet for the first time last year at The Big Meet. She is an amazing person and will help any planner girl out if they need something printing.
These amazing ladies joined forces to bring an epic crafty box to the market that is packed full of all sorts of goodies for all your crafty needs!
Both contribute towards the boxes in terms of making the contents. Debbie researches and sources the commercial products and Ali covers the printed goods. Everything is professionally printed on a digital printing press, they don't do home printing. AND they both do any die-cutting and digital cutting (as they each and have Big Shots and Silhouettes), and both do the packing up.
This is a serious power team! With so much care and attention to everything that is put into the boxes and how they will work together. With a choice of two sizes each box varies with what is included.
I have the A4 box to show off today and it is packed with a tonne of goodies for every crafty situation! In a typical month you will get in the A4 box:
Printed card/paper
Washi tape
A pen
Stickers
An insert of some sort**
Page marker/paperclip
Journaling cards
Ephemera and/or die cuts
Bits 'n' bobs
Washi tape sample cards
Buttons or ribbons
Crafting supplies
Postcard/notecard
Planner paper
This list goes on! But anyway shall we dig into this box! I love this month's color combinations!
There is so much good stuff in this box and I am only going to show you the tip of the iceberg! You will have to pop over to Youtube to check out my full unboxing!
I absolutely adore the color scheme in this month's box they are so up my ally! When I knew that this box was coming I held off on doing my weekly memory journal because I knew that I wanted to use this to pull that together.
Here is a look at how my week turned out!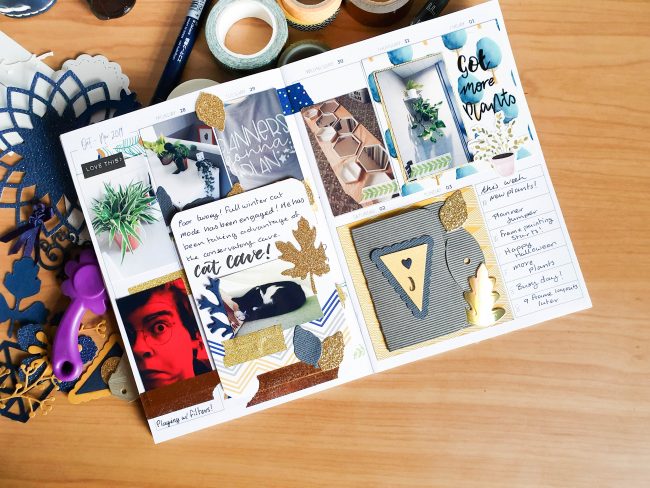 You will have seen this insert a few times here and there but I really wanted to juz it up with a few of the embellishments out of this box.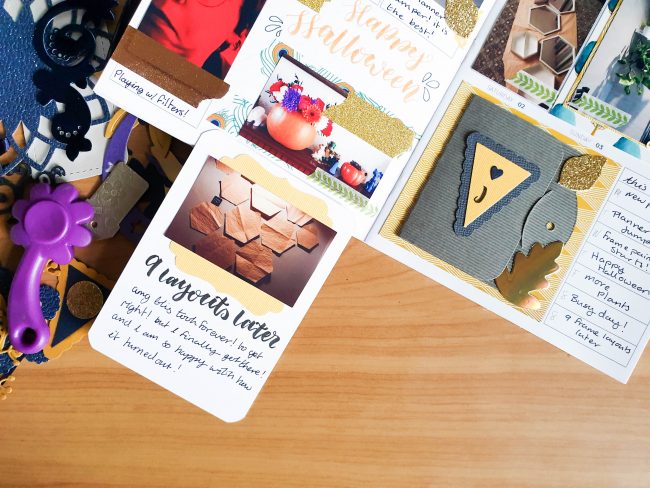 I very much enjoyed playing with this box and the different bits and pieces in it. I love all the details and thought out into each and every box.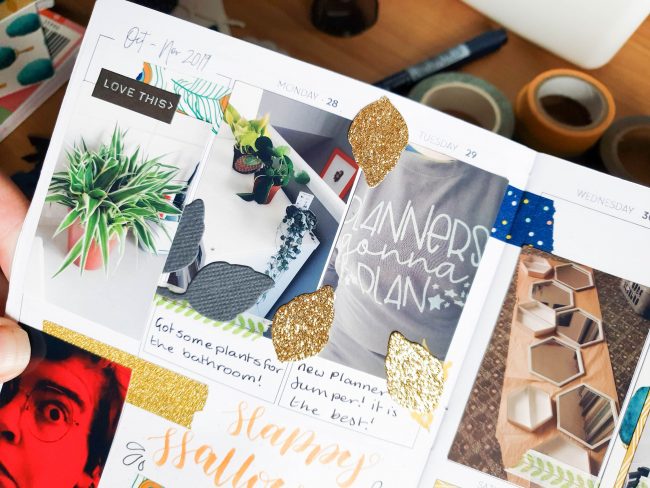 I mean look at those glitter leaves! I love it. Make sure that you head over to my youtube channel to check out the full unboxing. I would love to see what you get up to with this box.