So we have been in our house for a while now and though we have made great progress inside the house. The garden has been a little neglected, no overly neglected, just it could do with a rethink and a new lease of life.
When we first moved in we were really not sure what we wanted to do with the garden other than making the grass greener because the grass was yellow when we moved in. have a look at what it looked like back then.
It was really dry and spikey and just needed some love. Over the years we have fed the lawn, raked and spiked it. We have had people come in and treat it and while is it still not 100% it is much better than it was and the grass at least is the right shade of green. Though we do have our mossey patches.
It's actually really nice to compare these photos because even though I don't feel like we have done a lot to the garden we have actually done loads! The back fence was replaced. We have filled out the borders a bit, we got rid of the rotten structure on the wall. Created a bee-friendly bed and a herb garden.
The next stage is to turn it into OUR garden. We have found an awesome gardening company that came out and talked us through what we wanted in the garden and they also spoke about the potential of the garden as well. They went away and came up with a drawing.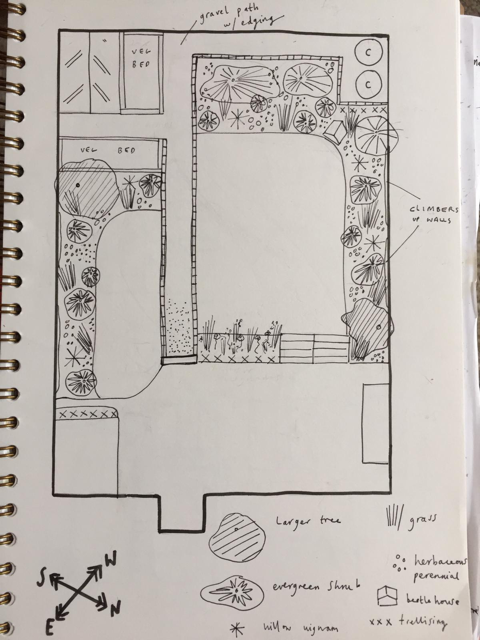 I am so excited to get this plan in place and get started on creating an amazing garden! What's even better is that they have already started and done the left-hand side of the garden. Well, they have cut out the border.
This just makes me so happy to have this wave in the grass and then to be able to fill in all that space with plants is going to be amazing! Once the borders are done we can then start on the veg plots and greenhouse.
We already have rhubarb and raspberries in the ground but I am also wanting to have salads and vegetables as well. And to top this off we are going to plant some vegetables in amongst the borders!
I am really excited to get this project started and to get the garden that is in a sorta okay state to an amazing state! I will keep you updtated!