I love my garden! But, I hate my shed! The shed has been a dumping ground for years now and has never really been functional for us. Did I mention that I love my garden.
This year I really wanted to get back on top of it and make it our own mainly because the tack that we have taken with it is. Put something in hope it grows. Now I have seeds to grow pants that need taking care of, a herb bed that needs some serious love.
And! A garden plot in the planning! I really want to start growing our own food again and I have a plan that will help us in that endeavour but that is a long term goal for the garden.
The shed was a nice and easy start to our reclamation of the garden. This also meant that we were starting the gardening year off on the right foot and ready to plant things. But first we had to tidy it!
Before
Not gonna lie our shed was a mess! We didn't think about layout or the things that we had we just dumped stuff and forgot about it. Which I think a lot of people do to begin with.
But we had a nice day so we decided to tackle this over the course of 4/5 hours. The shed looked like this before.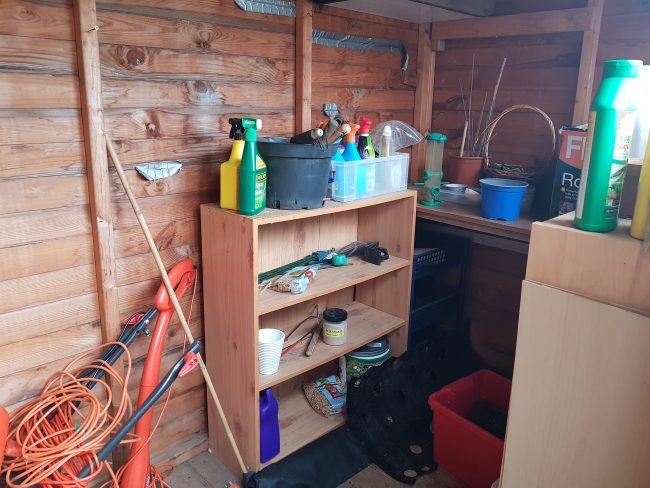 I know absolute mess! Most of these shelves were just not being used the way that they should have been. There also a load of hooks that we can hang things off if we need to!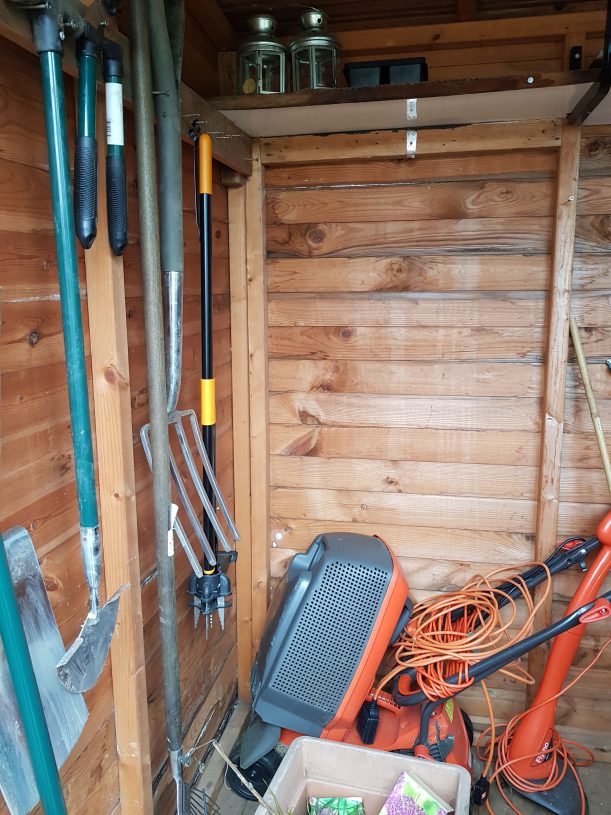 It all had to come out and have a good clean out before we could do anything and this took the most time really. Getting everything out! Because there was a LOT in there and more then we thought!
Everything out!
It was quite shocking how much was in there! There were old bricks and tiles and old boxes and pots and so much stuff! All those little things that we were holding on to you know just in case.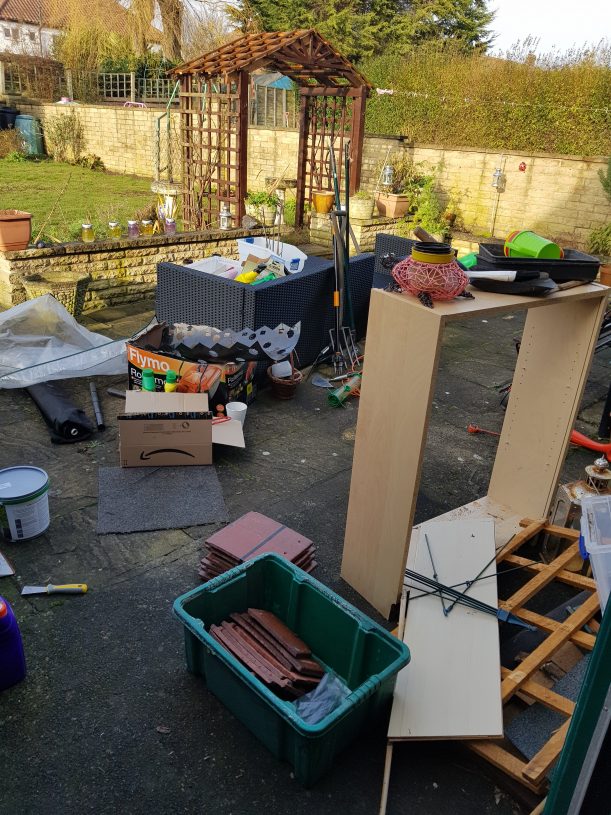 But now it was all out in the open and we could see what needed to go and what could stay. Getting things back in was going to be easy, right, because I had already been quite ruthless on the rest of the house.
Cleaning
With everything out and the floor and shelves all empty. We grabbed some cloths and a brush and some water and got to cleaning all the surfaces that remained.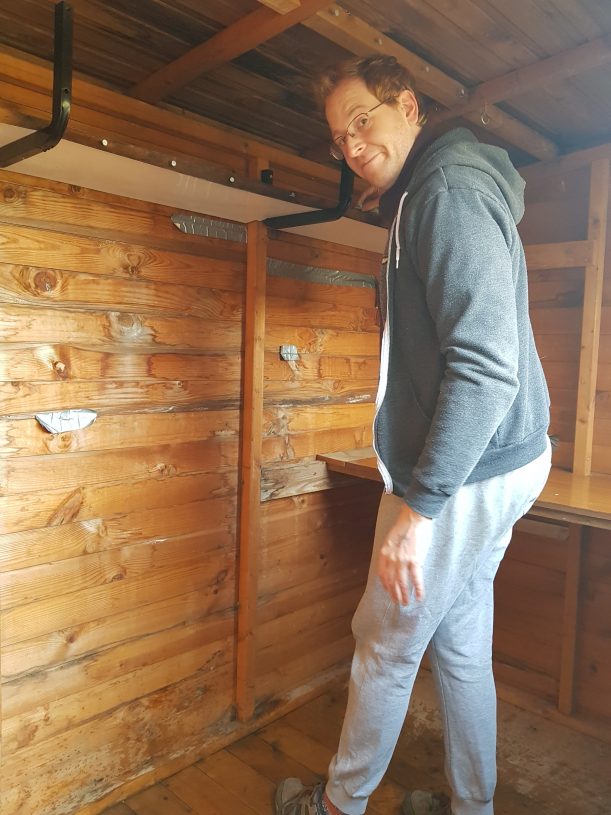 Look at Jono got reaching all the tall bits that I couldn't get to!
New Shelving
Bit of a long winded bit here put stick with me. We had this blue vegetable thing in the garage for a while so I though that would be great to go on the shelf side as my tools and seeds storage.
Next we had some old (and I mean old) green houses. The vinyl outer was breaking up and a door was missing off the other. Not in the best shape, so, I measure them up and the space under the side and what do you know they would fit side by side!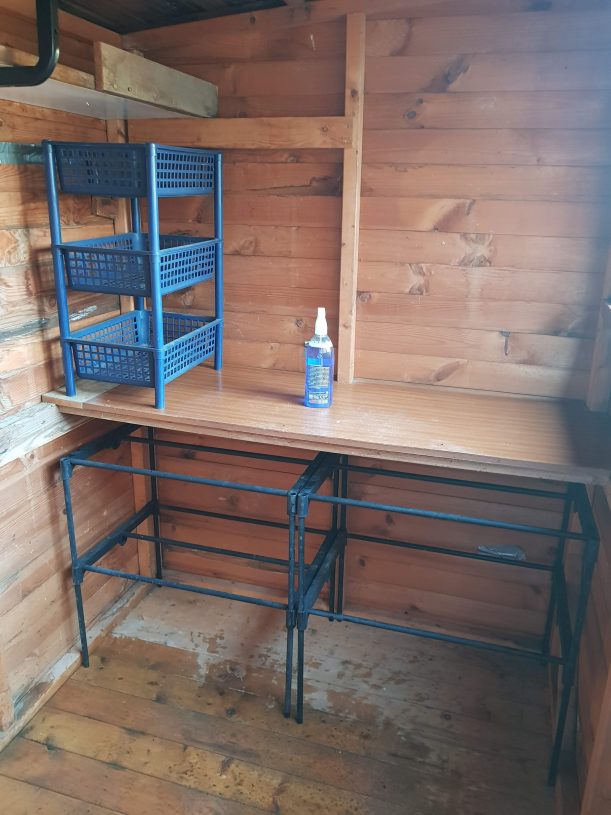 The once clutter and no functional space so became somewhere I could store my tools and have some shelf space for my pots and dirt and seedlings.
Potting Area
This is now a potting area for me to plod in and plant my seeds in trays and re-pot bigger plants that are due for an pot upgrade.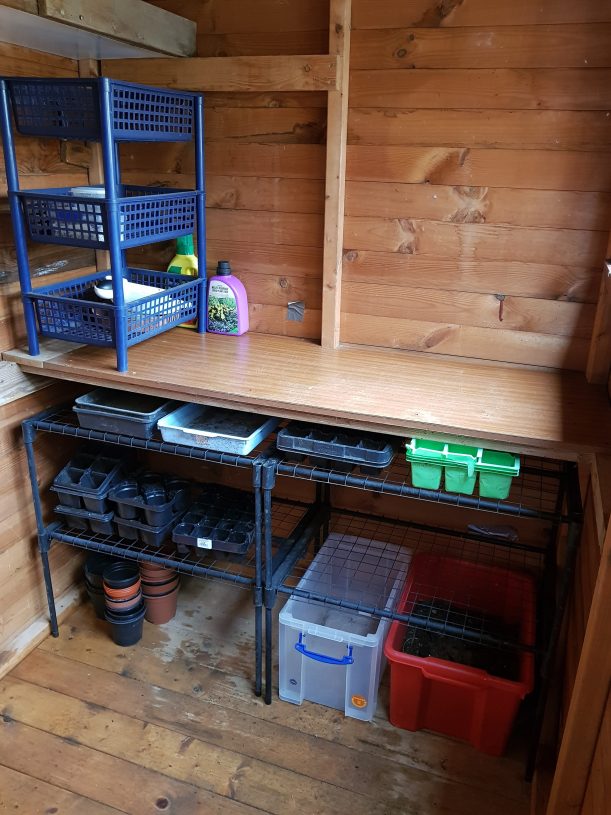 Everything is easy to hand. I have access all in one place. I can stand and do some planting and then sweep any lose dirt into that red box to be used another day.
All done
This took a good 4/5 hours to do but I am so happy that we have done it. The top shelf has all my decorative pots on it. I have a space to get in and out with out tripping over things. The lawnmower is out of the way but still accessible.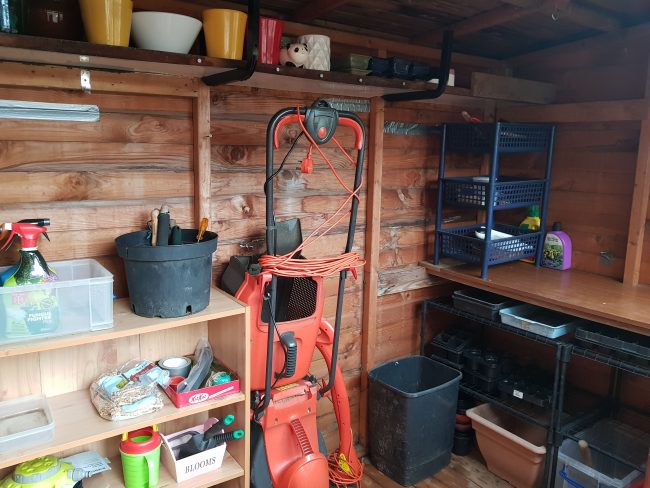 Only one of the two book cases that were in there is organised. And the bigger tools are now hung on the wall out of the way!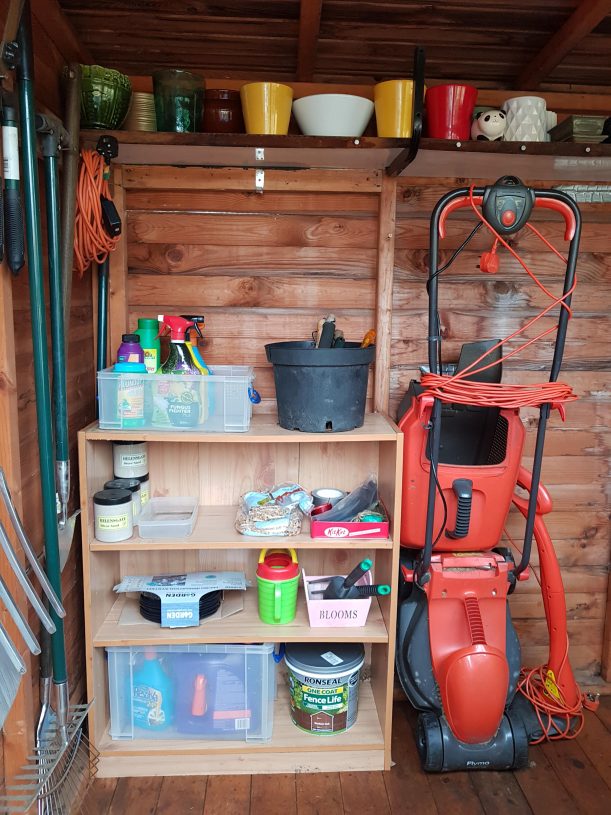 I really am very happy with how the shed has turned out. All the things that did not make it back into the shed, well, they have been taken to the dump by one of our neighbours that owns a waste disposal business!
Outside Shelving
Oh remember how I said that we had two greenhouses? Well the other got re-purposed as some outside shelving for when we are out in the garden or have some plants that need re-potting so that there are not taking up the shelf inside.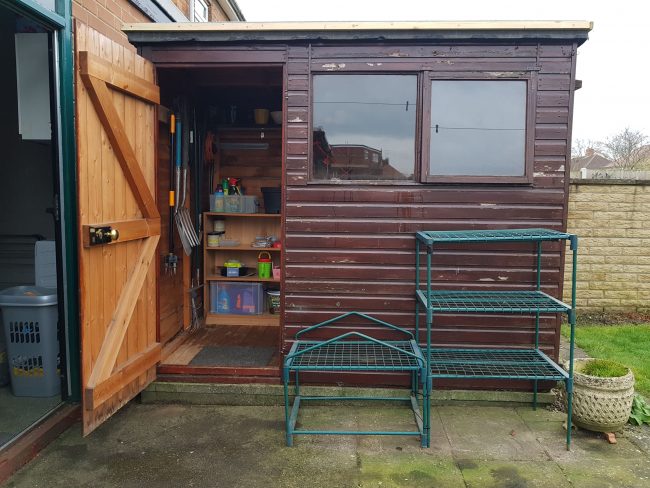 Okay maybe it needs a lick of paint but I think that that shed looks a bit more grown up which is something that I am super proud of!
Goodbye White Table
Oh one last thing! We had this horrible white table that we just did not use at all! So, that got taken away as well and now the BBQ is now under the kitchen window and there is a nice open space here.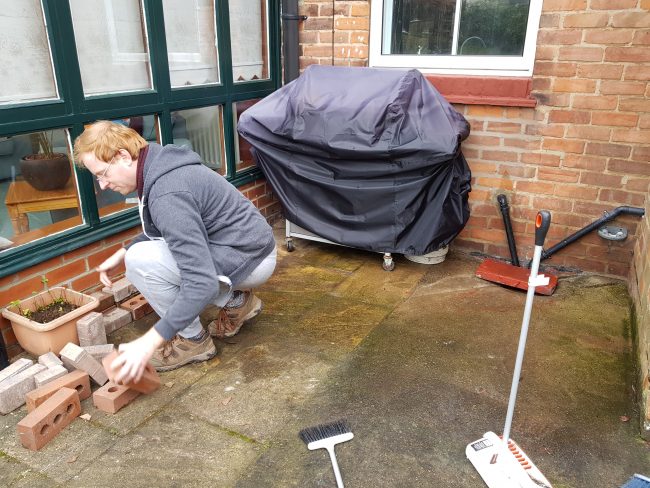 I will say that once you have done one room in the how Kon Marie style it is really easy to move onto the next and I know that I am technically doing the "proper" way but I am doing it in a way that really works for me.
Next up for me is the garage and that is going to take some time I think as that is a much bigger mess and thought process then I am use to for the house.
Catch you next time!