Today I am showing you my April Bullet Journal set up. I have noticed lately that it is not only me that is having a bit of a planner funk! I have decided to strip back my planning and to use only what I actually need rather than what I think I need to use and what I feel I should be using for Instagram. Have you ever felt that way?
I don't really need a monthly overview other than for my social media as I use Google Calendar for all my appointments and I use Trello as my brain dump of tasks and then sort from there. So I have gone back to my TN roots and I am back in an A6! Let's jump into the flip through.
American Dream Joy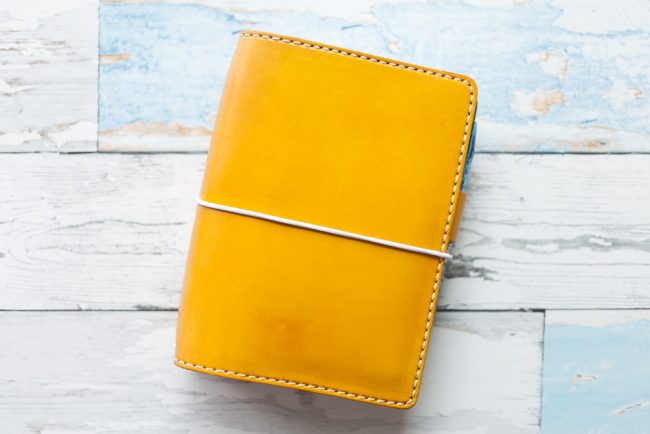 So the cover I am using is an A6 Chic Sparrow in Ali Browne Joy in the American Dream leather. This is a discontinued line of leather which I am a bit gutted by as there is a couple of the other colours I would have loved to have. But this just makes me happy and with spring around the corner its time to start bringing a bit of sun into my life.
On the inside
I have 4 inserts from Organise with Katie and one A6 notebook from Nunna as my Bullet Journal.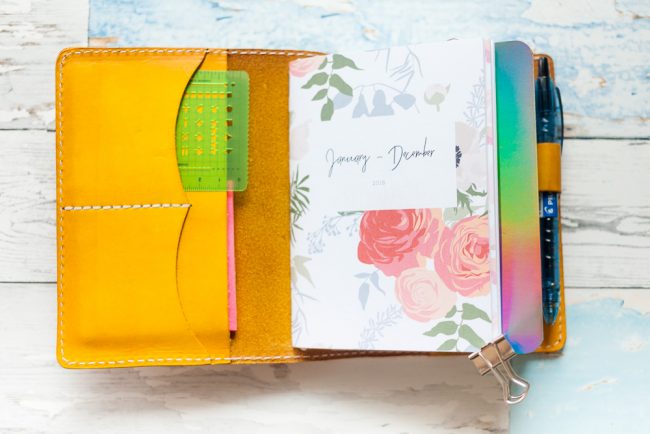 In the pockets, I have some post-its and a Hobonichi stencil. I live by this stencil and you can't go wrong with some post-its just handy to have a quick note or to pass out to someone. This is the first insert that I have from OWK and it is a month on two pages that I am going to be using as my editorial calendar and social media calendar.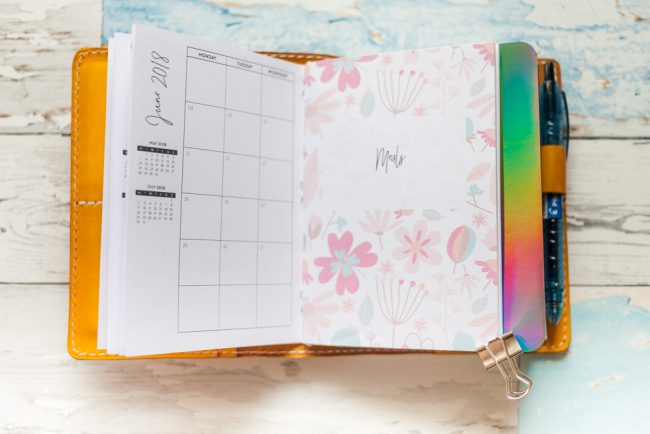 Sat inside the month on two pages is my meal planner as I am wanting to get back on the weight loss wagon and get back into my swimming and cycling. This also has my weekly shopping list in it as well which is handy!
So, like I said I am using an A6 Nunna notebook for my Bullet Journal this month and I am using going to draw in my weekly and daily layouts as that is really all I need for my planning and this gives me the freedom to change it up each week if I want to. Not big trackers and my daily lettering are going to be in another notebook as well. I must warn you if you are thinking about getting one of these notes books the dots are small, like really small. Look.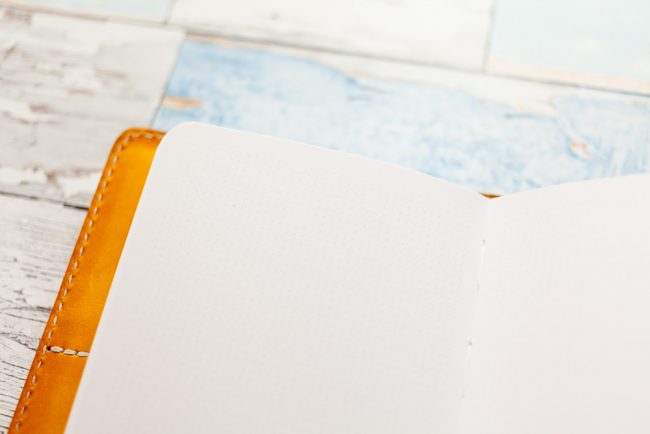 Super tiny spacing, I think it's about 2/3mm so very small and not good if you have big handwriting. But I will manage with this as my writing isn't that big. So here is a look at how I set this notebook up.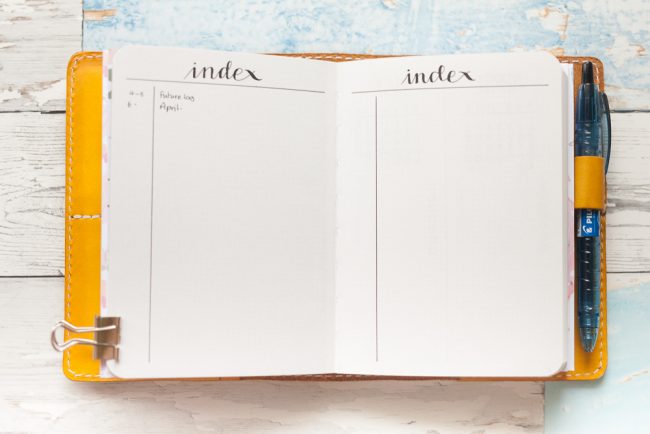 It's a fairly standard Bullet Journal set up, to start I have the index.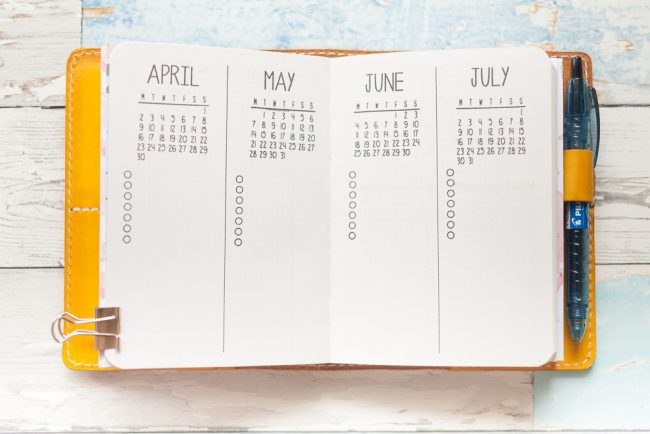 The future log that is going to be for any shop promos and blog ideas, rather than the standard appointments, as I said I do all my forward planning in Google Calendar.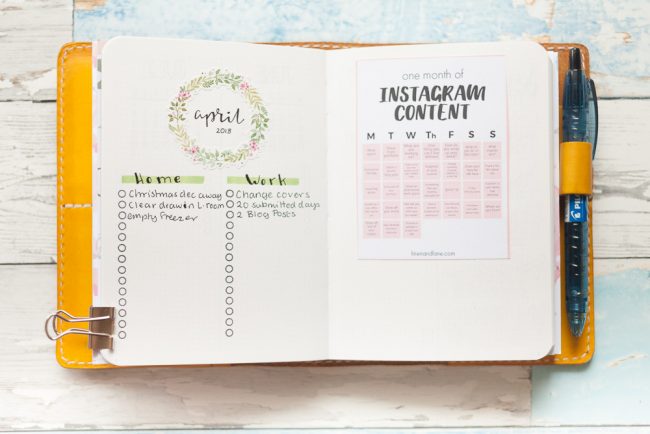 I also made myself a little cover page. This just has a list of the month tasks that need to happen. I will just add to this throughout the month. Also have a content idea jogger for Instagram just to make sure that I am sharing on my social media more consistently.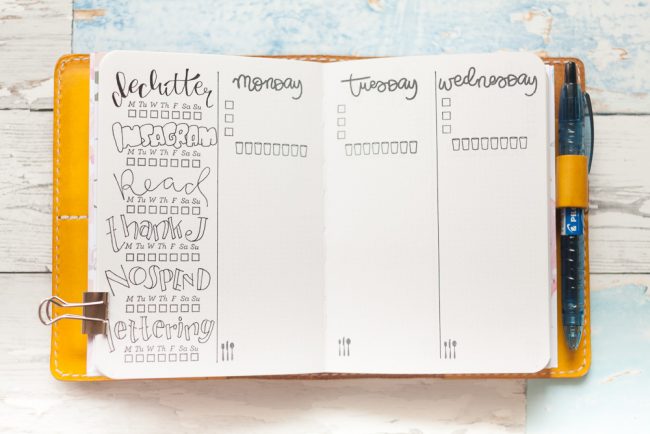 Then I jump straight into my weekly. I have used a lot of stamps on this to take some of the headaches out of drawing it each week. I have my tracker with tasks that I actually want to track. Then I have a vertical week, which is what I was missing and then a day per page.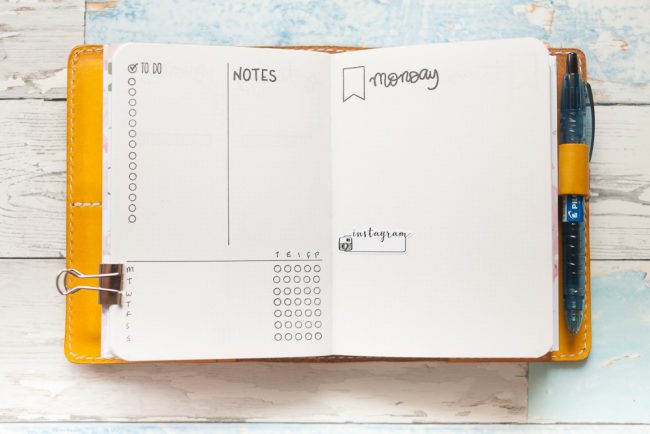 With the spare page in-between the week and daily, I have a weekly to-do list some notes space. I have also done an Instagram tracker. This is so I can make sure I am on track with commitments for that platform.
I'm really wanting to make an effort to read more this year and I got the book tracker from Katie to help me with this so I can keep an eye on what I have read and what I am going to read next.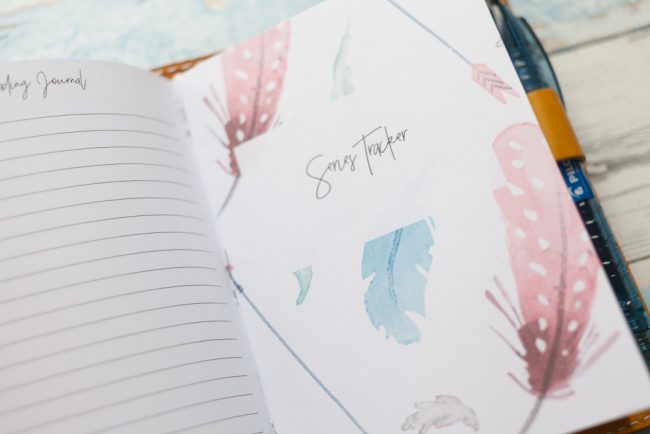 And its the same for this really. I and Jono watch so many different tv series it is hard to remember where we are up to and what we haven't watched in a while.
That's all for me today! You can follow me on Instagram @samplanslife. Or alternatively, you can sign up to get notifications everytime I post. Just fill in that box on the left.
Take care of yourselves!
Sam
P.S Did you see that Erin Condren is having a 50% off sale!? Go check it out and grab one that you have been wanting to try. This is the time to try it.