Everyone has their own system of how they plan. Though some people have their stuff together and I am certainly not going to say that I have got the perfect system, but this system works for me and I hope that it helps you in figuring how you should plan your month. Now, this is a bit of a multi-step process and can seem daunting but once you have done this a few times it can help you make sure that you get tasks done and nothing slips through the net. I have got to get my month together so I know whats going on each week!
Month bare bones
My monthlies are the most important part of my planner I rely on this section to know when Jono is in London or overseas or when the cat sitter is coming to pick up keys or when I have my niece. This is a great tool to keep a birds-eye view of what the heck is going on and where people are. I don't take a lot of time planning in my months as it's an overview of my rather than a detailed plan, the details come into play with my weekly plans.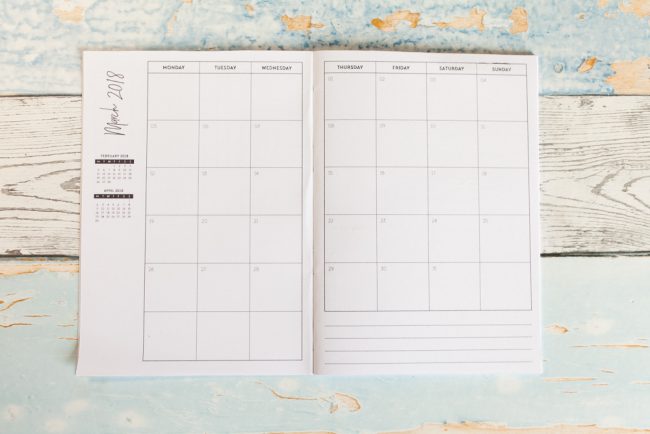 I'll use any month on two-page insert or drawn in my bullet journal. Here I am using a month on 2 pages from Organise with Katie that you can find them here. The first things I do is to mark out when Jono is away and for that, I use some orange washi because Jono is orange in my colour code. Next, I mark in any appointments for him, me or Patch. You know because I need to remember the last time I fleaed Patch. Once I have all that in my planner it is pretty much done.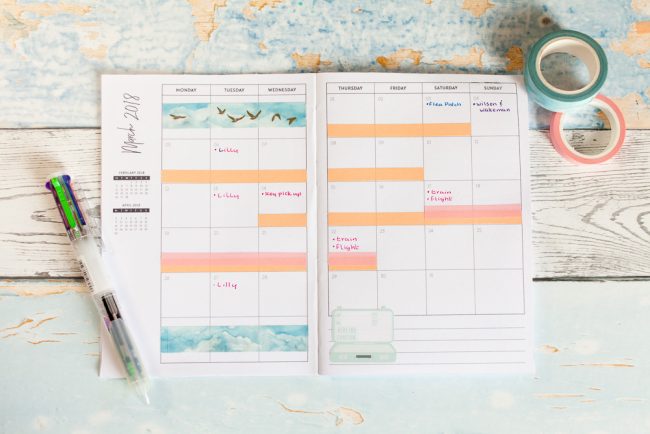 To decorate or not?
I don't really get very "decorative" in my monthly it tends to be more of a colour coded then anything else. I don't use a lot of stickers in it unless something needs to stand out, like a birthday or a big appointment. Now, I am going to also say that this is one of those time that a do duplicate plans. The reason for this is my hubs is not a paper planner person, so, we do have a Google calendar that he puts all his appointments in and his travel. I plan my appointment in my planner, so his stuff get's copied into my planner but I don't plan my stuff in Google. Make sense?
That's all for me today! You can follow me on Instagram @samalderson_. Or alternatively, you can sign up to get notifications every time I post. Just fill in that box on the left.
Stay Happy!
Sam