I am super excited to share this with you. Now I have received this free in return for an honest review and you guys know I wouldn't share unless I loved it. And let me tell you if you haven't got your hands on a journal from R Kive Journals yet you will.
I had been told about R Kive Journals by Emma and that she had worked with Dyanna to make her very own combo cover, holding both a weeks and B6 inserts. I was able to have a look at this back in August and the leather was really nice.
No gonna lie there were a few bugs in the design but Emma had feed this back to Dyanna for her to improve her product and I think that is really important for new shops to hear. But you need to be constructive in this feedback. Get specific!
Disclaimer: This post contains affiliate links, which means I may get a small commission if you purchase through these links.
Now I know what you are thinking, What has this got to do with you Sam? Well I was fortunate enough to meet Dyanna at The UKPA Big Meet at the beginning of February.
She knew my love of leather tn's and covers and we discussed the types of covers out there and what I loved about them and what I would do differently. I love talking to makers and picking their brains about their products. Dyanna hasn't been in business a year yet and has surpassed what she thought she would do!
I then got a message a few days later off Dyanna asking if I had had any ideas about how I would like the cover to look. I love my a5 covers and I love the Galen Leather one that Jono bought me for Christmas. I sketched out an idea that I had had for the cover and sent it over.
The sketch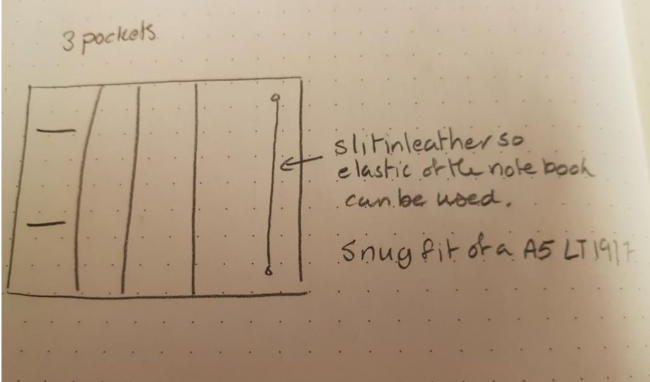 Okay so you get the idea! I had a basic idea of what I wanted and how I wanted things set up and Dyanna had already picked out the leather that she would be using for this and needless to say I am very excited about this yellow cover.
Construction
Dyanna got to work and then also sent me a couple of photos of her making the cover. Let me tell you this could not look better! It is exactly how I had it in my head! Even with my rambling she was able to understand me.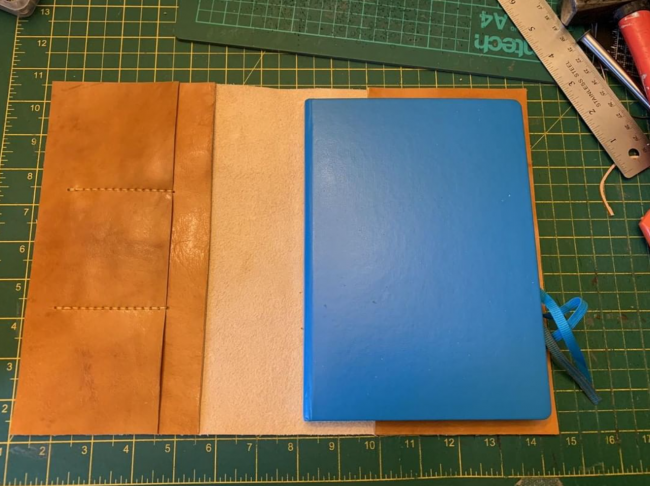 Just getting the size right and the positions of the pockets. Also side note how good dose that blue look with that yellow! I currently have a navy blue notebook and I think is it going to look great against this yellow.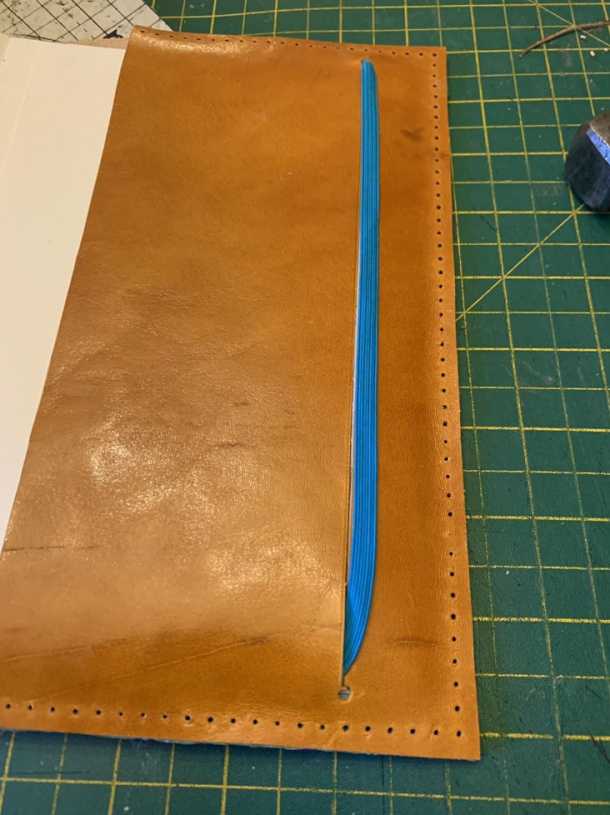 This is something that I am very excited about. To be able to close the cover using the built in elastic of the notebook! Oh my gosh yes! I haven't seen anyone do this with a cover so I was feeling super smug when I thought about this.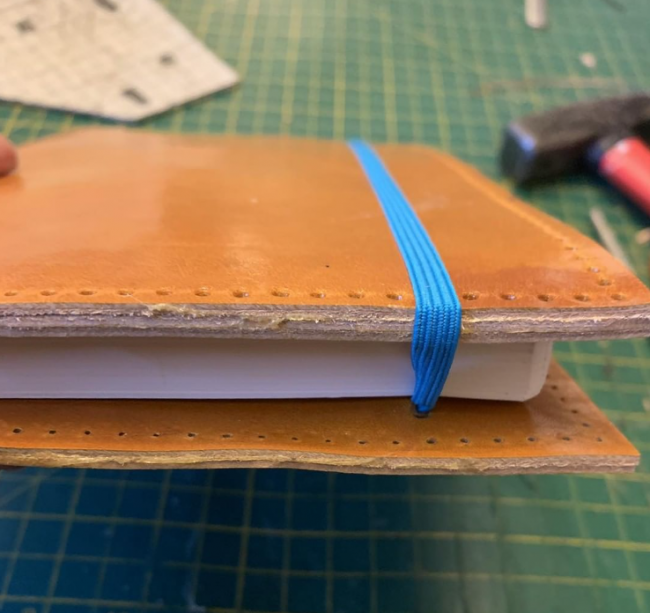 Just look at that, how awesome does that look. When she sent me these I knew that she had understood exactly what I had drawn and what I wanted out of this journal!
So there is sketch and in progress I suppose you want to have a look at the finished project. And let me tell you this has turned out amazing! Dyanna talent with leather is incredible. I wish I could do things like this.
Packaging
Dyanna means business when it comes to the packaging. Bubble envelope, wrapped in brown paper and then in a cotton bag! I love it when shop owners care just as much as what they are sending their work out in as they do their products. Here lets take a look.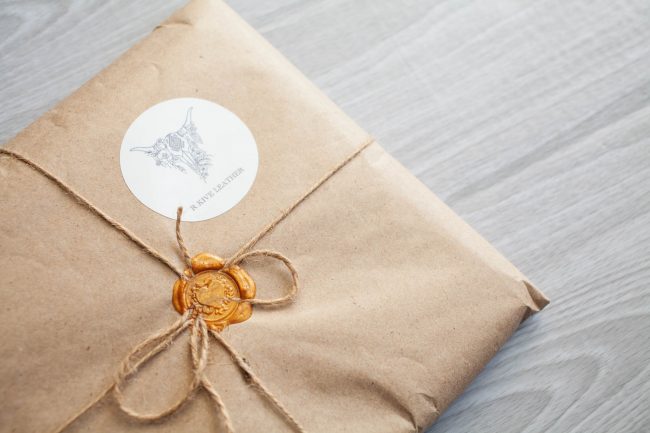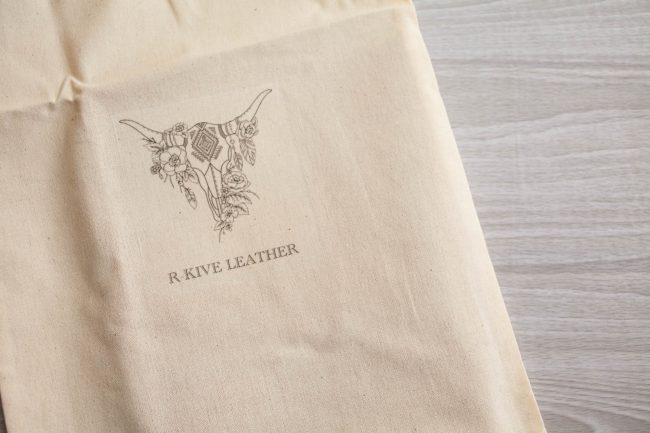 I love all the little details in the packaging and it really protects the leather cover inside. So shall we get into this cover!
A5 notebook cover
Like I said Dyanna had already picked a leather out for me and she had brought a weeks cover in the same leather to the Big Meet. I got to have a feel of it and most importantly a sniff. Don't look at me like that you know you give leather covers a good sniff.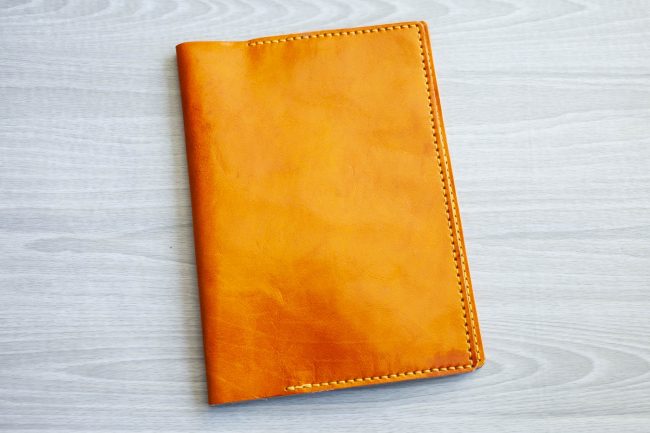 Look at this yellow! There are some beautiful marking on this leather and the vein markings are all over this piece of leather.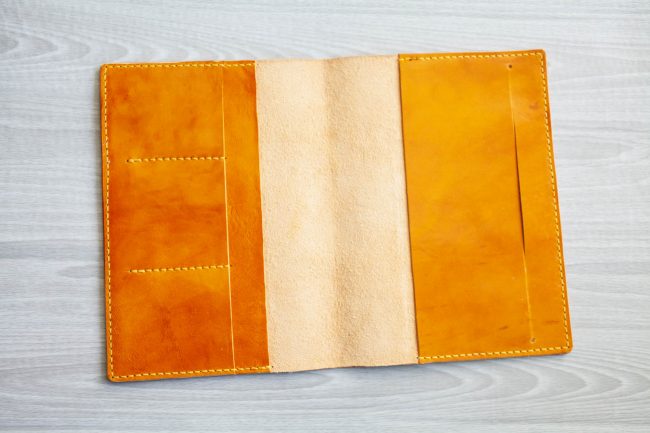 I am very excited about having a couple of pockets in this cover I really think that is going to have an impact on my bujo planner peace.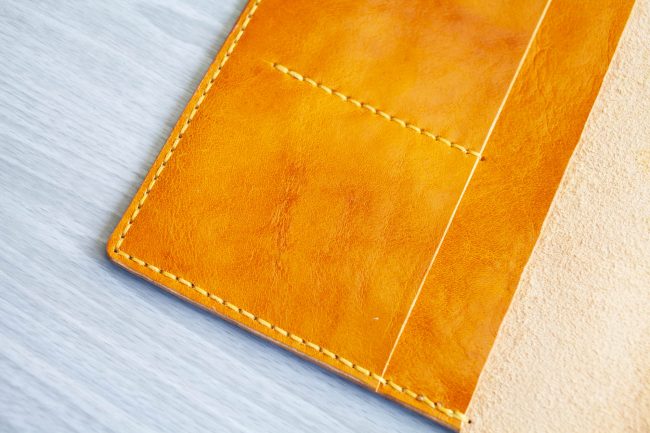 Again look at these scars on the leather. And I had to pick yellow thread as well. The tread is so nice and it feels really durable. I will report back once I have used it for a while. Shall we put my Bujo in this!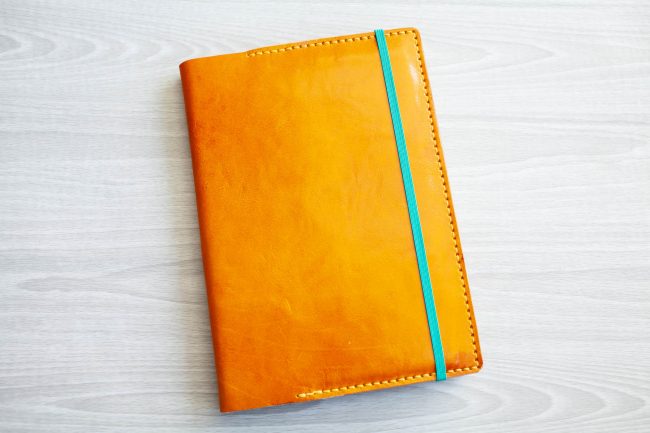 Look how nice that strap looks against that yellow! And this is what I wanted from this cover! To be able to use the strap from the notebook to actually close the cover.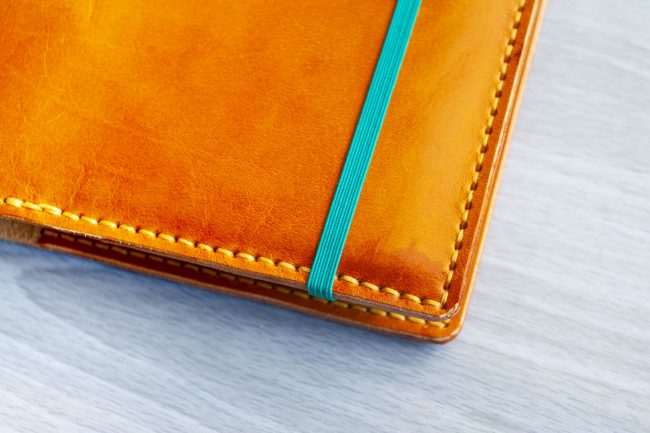 Look at that stitching detail!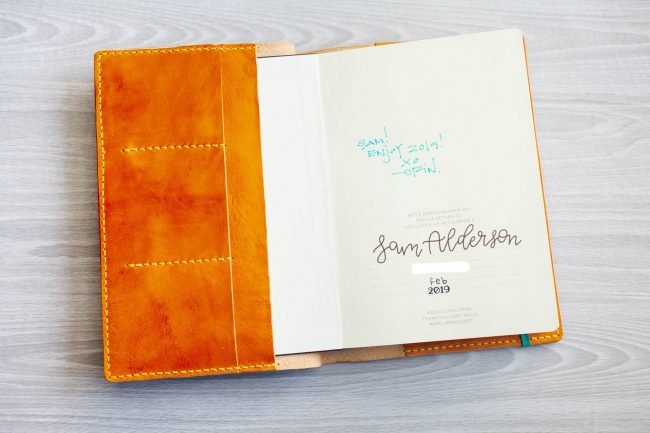 I have to saw I am really happy with how this has turned out. I had seen some of Dyanna work before and working with her on this custom piece was so easy she knew exactly what I meant.
I have to say I will be getting another one of these and I can't wait to see how this stands up to my bulling! I will report back in a months time to let you how it has worn in.
Fellow planner enthusiast Zoe also had a custom made cover for her Hobonichi Weeks. Make sure you head over and have a look at how it turned out.
Dyanna is always open to custom pieces and she has a lot of ideas up her selves for the coming year.