So you may have guessed from the title that this is going to be something a little different. A few of us have got together to talk about a few different topics that we all have different thoughts about.
This is not to say that one way of thinking is better then another this is just to share the different viewpoints that are in the community. This first post is just a bit of an intro to all of us and to me as well.
Who is in this little group I hear you shout! Well there is Kerry from Kerry May Makes. There is also Kelly from The Scrapbook Girl. And last but not least Emma from Read, Write, Inspire. Make sure that you go check out their intro posts as well.
If you have been reading a while you know a lot of these answers but for those of you that have not. Here is a look into my brain at the moment. Grab a cuppa!
A little bit about you and why you chose to write in this circle.
I love helping people and I have been blogging for over 10 years and in the marketing and SEO industry for just over 5 years. If I can help I will and this group has some amazing talent that I am very much going to enjoying getting to know more about!
I am very much of the mindset of "Just fucking do it" start somewhere! It's something that I try to put forward when people ask me for my advice when they are starting bullet journaling or any planner in general. I will be honest and it may come off harsh but it comes from a place of love and wanting to help.
Progress not perfection is my aim. I am a bullet journalist at heart and a white space planner. I love having a very loose routine to my day and working from home I kinda need it but it still needs work.
Name a person or topic that interests/inspires you right now?
Even though Bullet Journaling seems to have become the in thing in the past couple of months. I have been doing it, in one form or another for over 5 years now. A lot of people still mistake it for a planner and its really not.
At the end of the day it is system that you can implement to any structured planner or notebook you like. I know that there is a lot of contention around weather you should be a purist or an artist. To me, it should be what ever works for you! It's your journal and you don't have to share it with anyone if you don't want to.
I would really like to meet Ryder Caroll. Just to pick his brain more then anything and get his thoughts on the way it has been adopted into the community and how there is everything from the plain to the fancy in the community.
What planner has been the most successful for you?
To be honest I have had a couple of successful stints in different planners but the Bullet Journal system has always played a major part of that. My first success was in an InkWell Press. You can see a few of my successful weeks here.
But to be honest the Notebook that I am in now seems to be my *whispers* planner peace. I love the flexibility of the bullet journal system and the ease of it once it clicks in your head can be very helpful.
I think the fact that I stopped giving a crap if my planner was Instagram pretty also had an impact on my happiness in my planner. It is not much more for me then it is #forthegram.
What book are you reading right now and would you recommend it?
Err…. I am reading two books at the moment. Discovery of Witches, I watched the tv series and really liked the elemental concept of witches so had to grab the book. I am also reading How to Bullet Plan, I was asked my opinion on this so had to give it a read.
Recommendation are hard for me because I read a lot of different things, but here goes.
Jon is a really big reader as well and you can check out his list of books over on his blog here.
What's your weekday morning routine?
I actually wrote about my routine both morning and evening at the beginning of the year. You can read more here. But I am an early bird at heart. I normally get up at 6 am and start my day from there.
Most of the time I am pretty consistent with what I do, you know. Up, shower, feed Patch, morning pages, breakfast and so on. However, I will some times have that day I get up at 8 am and just dive straight into work.
It all starts from the evening before really, if I have had a good wind up to my day and I have a clear idea what I am going to work on the next day then I have a good morning. It not, it goes to pot!
What about Music of the moment? TV show?
I'm not really watching any shows at the moment I tend to watch a lot of YouTube of gamer's I follow. Though I did watch the first episode of Chernobyl, which I could have just dried through.
I actually went to Chernobyl last year and it is beautiful and terrifying in every way. To see some of the scenes in the show and know I have stood there hit a bit close to home for me a couple of times.
Music, well that depends on my mood I think it would be best for me to link you to my current fave list on Spotify. This list is ever changing as I add and remove things from it a lot. This will give you an idea of the mood I am in at any moment.
Hobbies beside Planning and crafts?
I actually love to do a lot of photography. I have what I refer to as my big camera which is a DSLR and then my mobile which is with me everywhere. I have been doing photography for over 10 years now.
I think once you have the basics done and an eye for what you want to capture the camera you have doesn't matter. I take a lot of my photos on my phone and edit on my phone.
I am a big advocate for the best camera you have is the one with you. If you know what the one with you is capable of then you are golden. I actually wrote a blog post with a bunch of tips on how to take better photos on your phone.
Who in the planning world would you love to meet?
Oh that is a hard one! I have a couple that I would love to meet.
Julie from Plans2Create I have used her inserts on and off for years! I was in her Facebook Group and she is lovely. She is so willing to help make your planner yours. I would love to give her a big hug!
Fish from DIYFish inserts, again her inserts are insane but work really well with my brain. These inserts look terrifying, to begin with, but once your brain gets the hang of them, my word you will love them forever!
I am sure that there are loads more that I could list but I would be here for a while and I am lucky enough to chat with some of my fave people.
Digital or paper planning. Which do you prefer?
I can sum this up in a gif!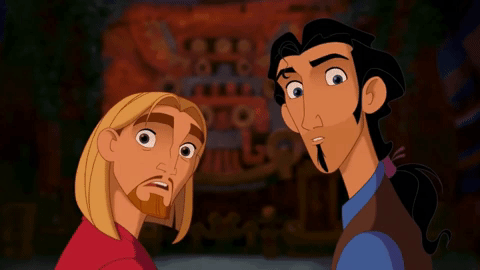 I do both! All my long term planning is in Google Calendar, big projects are in Trello and my day to day life and notes are in my bullet journal. I actually have a blog post coming up explaining it all.
I know that some people use one over the other and that is fine! You do you! The thing that I don't like about this debate is when people get very argumentative that you should do one or the other. It's you planner if it works then don't change it!
If you could tell past you something about planning what would it be?
STOP BUYING SO MANY PLANNERS!! Seriously, the amount of money that I have wasted on planners, inserts, notebooks it unreal. I am a bit ashamed of it. I have so much stuff that I don't use anymore, all because I wanted to try the new shiny thing.
So I guess the one thing I would tell myself is; Find the bullet journal system and read David Allen's Getting Things Done, get signed up to Trello and embrace the mess. I have never been more relaxed with my planner then I have over the past 4 months.
I am scribbling here there and everywhere and I love it. It has all my thoughts and daily plans in it and my digital world is planning my future!
Wow that was a bit of a long one! I have a lot planned out of this coming month including why I quite my PR Teams and my digital world. I would love to know your answer to any of these questions, leave them in the comments below.