July saw that end of my Bullet Journal and the beginning of my Hobonichi and I have to say that I have enjoyed my month so far in the Hobonichi. I had forgotten just how much I love having everything in one book.
I know that a lot of people jumped on the bandwagon at the beginning of the year with the weeks but it's quite nice to be in something different but kinda similar as well and there are a lot of people out there still using the cousin as well.
But how am I using it?
In my bullet journal, I had everything in it, tasks, journal, reflection the whole shebang. Well, I am doing that in my Hobonichi as well. I have my daily tasks that are filtered in from the weekly spread and Trello. And then any space at the bottom of the day is used for journaling.
I wasn't sure what to show you on this month round up because I could have shown you one or the other and keep this short or show you everything and have this be a very long post so I have gone for a bit of a middle ground.
I am going to show every week but only a couple of daily pages that I really like. So, shall we dive in?
WEEK 31
July 29th – August 4th
This first week is a bit bare-bones as I was trying to figure out how I was going to use the weekly. I had a look back at how I used it the past few years and built on that really. I have a mix of to-do lists and event's, with a dash of lettering.
I really was trying to get to grips with the dailies. In previous years I had just had lists of the stuff that I needed to do each day and I didn't really use the timed section of the space at the bottom of the page.
I am really liking how I am utilizing the daily pages and you will see as we go on that I get a handle on them and start to do some doodles as well.
WEEK 32
August 5th – August 11th
So this week I definitely fell into a groove with it this week and I started to do a lot more lettering in the weekly pages. This was also the week that I found the Instagram account @crazy_bera. Go check her out!
I had also started to put a lot more lettering on my daily pages as well. This is great practice for me and making my lettering a bit smaller and consistent. As I always say you ain't going to get better unless you practice.
I also started to use a few stickers on my dailies as well but only icons really and little characters. I needed to start using some of my stashes and this is the best way to use it up.
WEEK 33
August 12th – August 18th
This week I was in Wicjhen at Yoast HQ, which is also fun and very productive! I managed to get through a lot of stuff and that meant that I could chill out for the weekend. This meant that my weekend was full of catching up on housework and laundry!
I kept my daily pages on the simple side because I didn't have a lot of house stuff to do, and I didn't need to work on the blog a lot that week either so they mostly were left blank and I just journaled at the end of the day.
WEEK 34
August 19th – August 25th
So this was the first week in the Avec that I had bought. If you read my Hobonichi 2020 post then you will know that I am going to switch to an Avec rather then a full year and have a half year Stalogy with it. This was a much quieter week then I had thought that it would be but heh-ho.
I actually ran a lot of this week off my pc as we were heading to Edinburgh for the week for not only Fringe but a conference as well. Though I did manage to journal in my Stalogy a bit.
WEEK 35
August 26th – September 1st
So I can explain. Well no I can't I was on holiday and hanging out with friends! I didn't pick my planner up at all this week. I laughed and cried at fringe shows. I was woken up at 3:30 am and had the funniest Whatsapp chat with others in the hotel. I relaxed and did very little.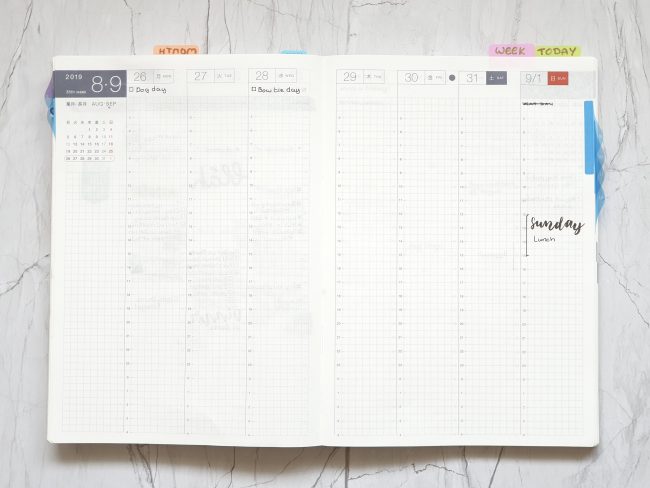 I didn't even take notes in talks! I took photos and chatted with the speakers afterward to pick their brains and expand on a lot of the thoughts that they had. I love this, by the way, there is always an interesting conversation somewhere.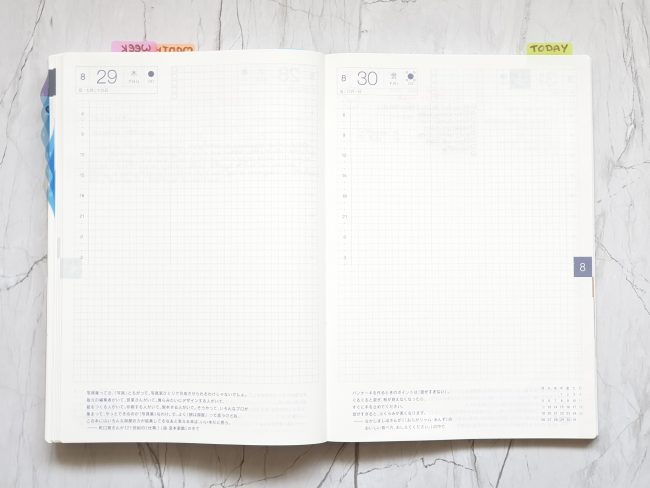 I am ready to get back on the horse in September but to be honest, August has been a bit of a mixed bag of travel and homestay which is always nice! I would much rather be on and off travel over 2/3 weeks away and then only a week at home. September is starting to look the same as well, which is nice!