It's no secret that I love my Start Bay Notebook! Jupiter goes everywhere with me and he is getting a little fat now that I have added an extra book to him but that is for another post. Today however I am showing you the new Start Bay colour option! A while back Peter from Start Bay got in touch with me about this new colour and if I would like to give it a test run before it went on sale. Knowing how much I love Jupiter I jumped at the chance to help a small UK business grow and share this with you guys. Peter asked which style I would like and I love the look of the duo and wanted to give that ago.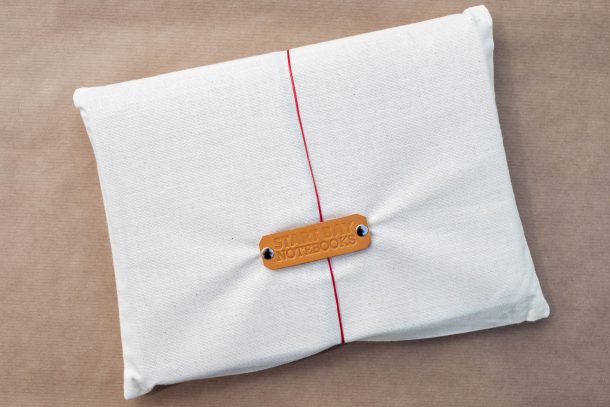 Not only was I sent the cover but Peter included a few other bits as well, but let's have a look at the cover first. All covers come in this really well-made cotton outer bag to keep it safe and has a name plate on it in the colour of your notebook. This is made in the same leather as your cover.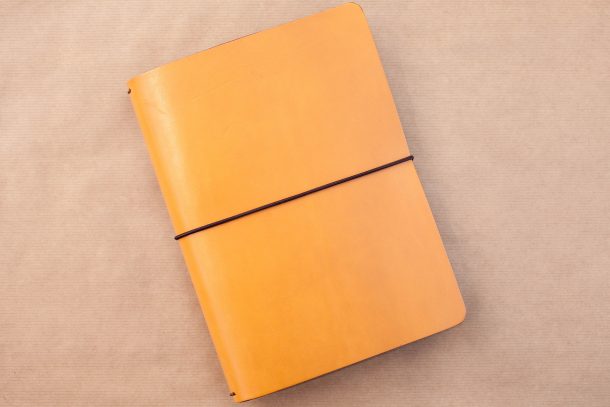 Look at that colour! Start Bay have named this Chic Tan and let me tell you this is a beautiful colour in person, I would call it an ochre yellow and a bit toward the orange end, but beautiful. Now that leather is full grain and is full of character and extremely durable as it has not been split from the hide. It will naturally age over time and handling. Because of the type of leather that it is it can have imperfections, however, that adds to the charm of the cover. The interior is through dyed but may have marks and imperfections.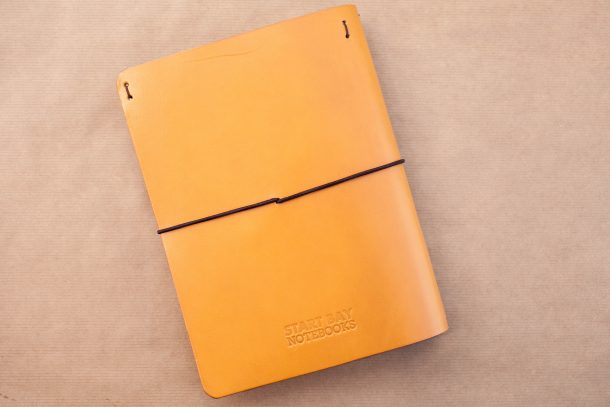 Now the main difference that you will see between mine and the one that you order is the outer elastic. Mine has it in the back of the cover however due to the function of the cover it can make writing on the back notebook a bit difficult however this has been changed so that the elastic is in the spine which makes it lay much flatter and is much easier to write on. I have a quite a few photos to share so let's get through them. Let's start with that nameplate on the back of this beauty!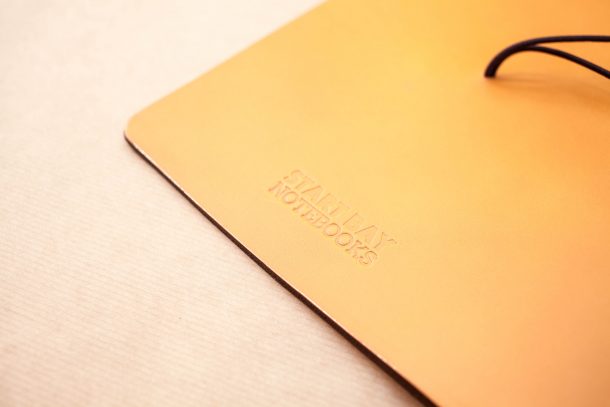 This is nicely deep set into the leather. That's not going to fade away anytime soon!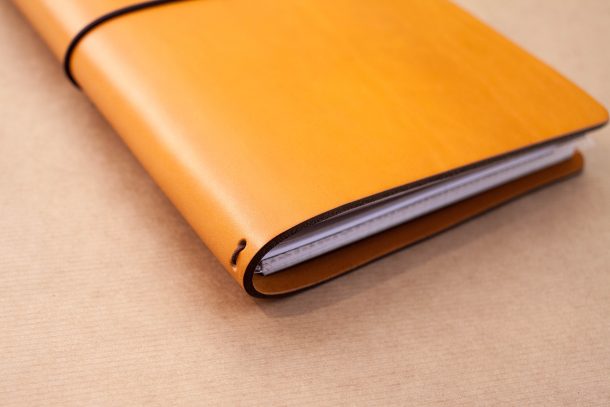 Here is the front bottom of the cover there is two elastics in the spine so you will have the two side stapled notebooks and then one top bound notebook hence the term duo!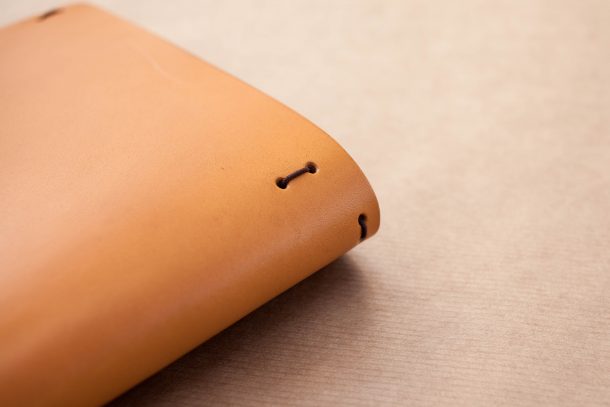 Here you can see the elastic that holds both styles of notebook in place. Personally, I would prefer to have space for three notebooks and the top bound but you can easily add a third with a bit of elastic putting two notebooks together. Easy peasy! Let's head on inside!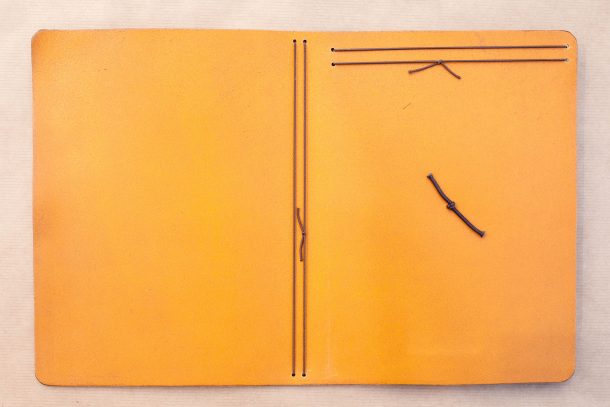 Here you can see how everything is held in place. spine elastics, top elastics and the one that holds everything together. This leather is so smooth and very stiff. If you do want a bit of flexibility to the leather, I would suggest rolling it. I know that sounds terrifying but it works. Let me know if you would like a post about how I rolled mine.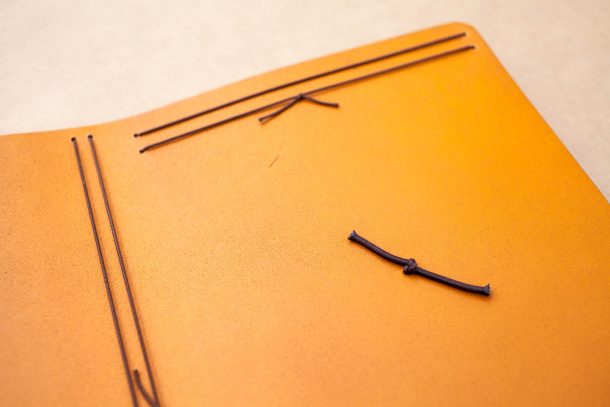 Just look at how smooth that leather is! And the feel of it is so nice. The colour has come up so nicely on this leather and the yellow tint to it is just screaming summer.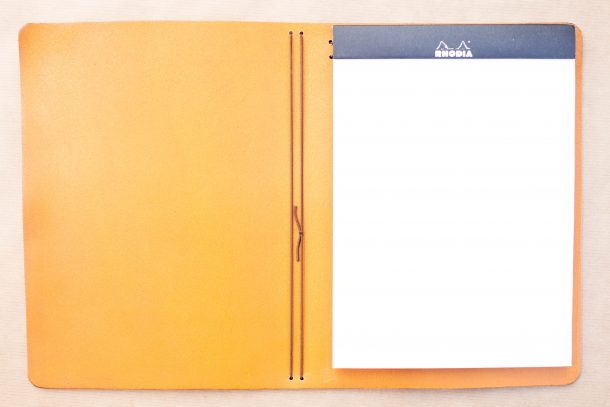 Here's how it looks with a top stapled notebook in it. I would really recommend the Rhodia notebooks especially if you are going to use a fountain pen.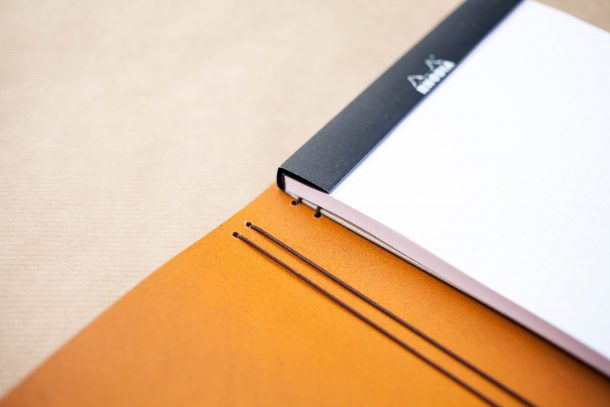 Here you can see how that notebook is kept in place by the elastics that go across the top of the back of the cover.
It's a nice sized cover and not too bulky. I wanted to do a size comparison between this and something that most people would have, a Filofax. So here is the size difference.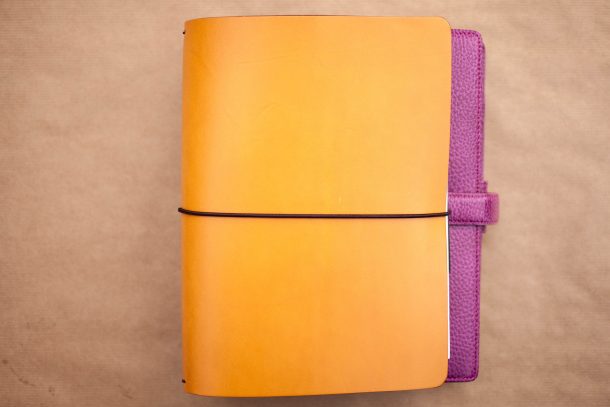 You get a good couple of cm's difference and that is mainly due to the rings in the Filofax. Again nothing to worry about just makes for a slimmer carry around! So I mentioned that Peter sent a few extras for me to try out. Let's have a look at them.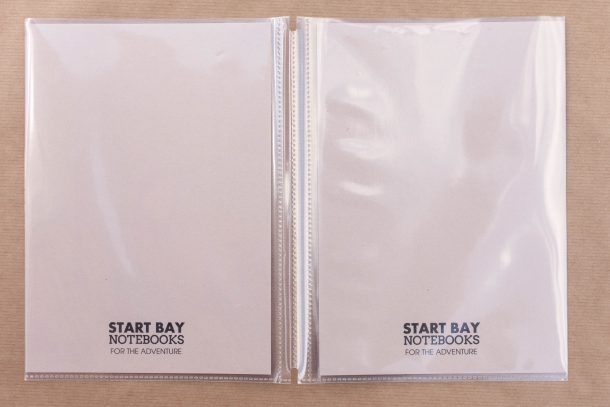 This pocket is so handy to have in your notebook, just tuck it around some books and you have somewhere to store receipts or stickers or bills. It feels really durable and is definitely holding up to my use. I was also sent some plastic stick on pockets and a couple or Kraft Folders.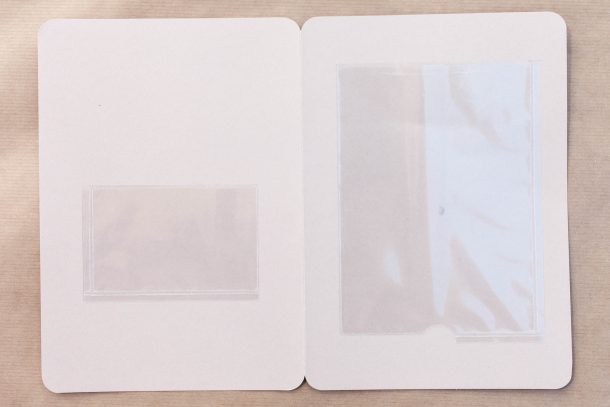 So these became one! Another fantastic way to carry bit around or store until you get home. These are perfect for the little card receipts that you get or I have used them for biz cards for when I am at a conference. You could also stick these on the inside of your cover, now I wasn't brave enough to do this but I have seen people do this.
Overall you will not be disappointed with this cover or this company, the love that is put into each of these covers is amazing and this new colour screams SUMMER! I very much enjoy my covers that I have got from Start Bay Notebooks and I will certainly get more if they bring out any other sizes… Maybe a Moleskine Cahier *nudge nudge Peter*
So what do you think of the new colour do you love it? Will you be treating yourself to one? Let me know in the comments below!
Until next time, Happy Planning!