Last week you will have seen that me and Jon have had two quotes for a new home office to be installed. The first quote was from Sharps on Monday from a lovely man that was not at all what I had expected from a sales person. He did say that he had been with them for 14 years and he thinks that it's better to have a no nonsense approach to the job be as clear as possible to show what they can do to make the room work for you. Which was nice! I showed you what he drew us as to what her thought would be the most optimium use of the space to give us a lot of storage.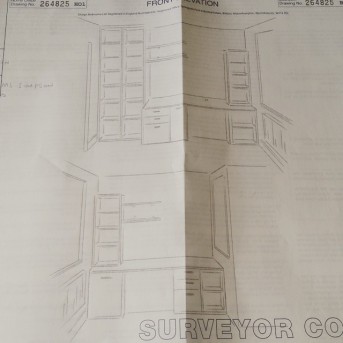 I love it! I think it's great and I think that it will turn out fab in the end – Don't worry I will share pictures! The other person that we had come in was from Hammonds and the guy was lovely again but didn't seem to have the experience of the Sharps rep. What I mean by this if that we had to tell him what we wanted and where we think the units should go where as with the Sharps rep we just said we need storage two work station and we both work from home and he came up with the most optimum design. Not a lot of prompting! Also Hammonds fleet like the just used set pieces the they put together and it isn't very customisable to your needs where as Sharps felt that it was tailored to our needs not to there plug and play. Hammonds also wanted £1,500 more than sharps for less storage. So it will be Sharps that we are going with. It was just a nicer consultation and don't get me wrong the guys from Hammonds was lovely but he needed a lot of prompting as to what we needed.
I will keep you updated with what is going on and our experience with the fitting. The next stage is to get the Surveyor in to take the measurements for the room so it is perfect and then we get to book in when it gets installed but first what we do need to get done is have a more sockets put in and also need to decorate which all need to happen in a certain order so I have everything planned out in Trello and I can get this office done if it's the last thing that I do.