This is the second planner to share and this one is another new kid on the block and what is even better – well for me anyway – is that they are UK based! This is the first year that Lyndsay has come out with this planer and her hope is to help the UK community thrive and get organised.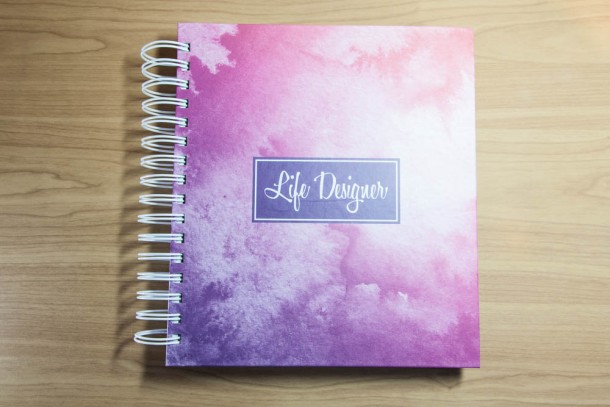 This is the Life Designer – it is a hardback wire-o bound planner and here is a bit of a mission statement from Lyndsay.
In essence – it's a blank canvas and you will get out of it what you put in. If you take even 15 minutes a week to look at the seven days ahead you will be surprised at how much clarity you will gain. If you think that you don't have time to be sitting around writing lists in a planner – think how much time you could save during your week by planning ahead.
We all do it, we plan to procrastinate, I do and so do you, don't you be lying! But with the multitude of things in this planner I don't think you would ever need to procrastaplan ever again. Lets jump in there is going to be a load of photos!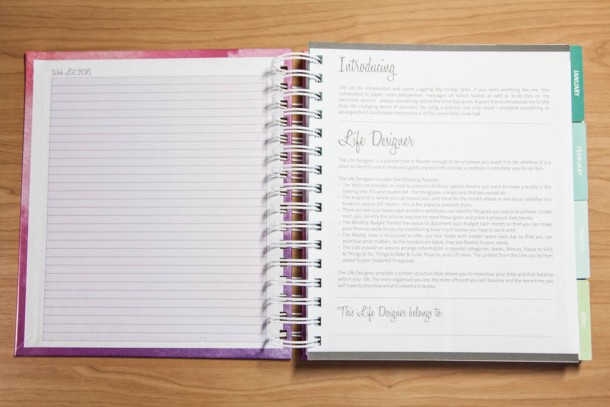 Right of the bat you have a wist list for 2016 on the back of the cover! Let me tell you now every centimeter of this planner is geared to something useful. You have an intro to the planner and how to use it and who it belongs to. next we have 2016 at a glance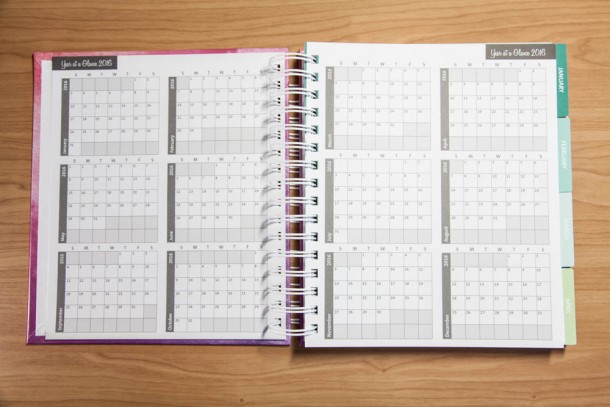 Followed by 2017 at a glance.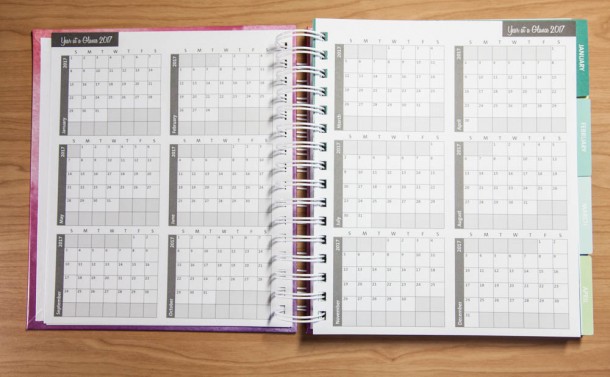 Next is you snapshot and goals pages.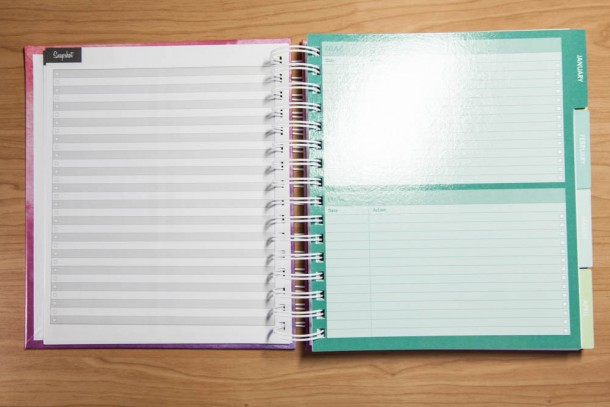 Sorry about the glare there but the whole month divider is laminated. Yup the whole thing, this is not something I would have done but I think the idea is to use it like a white board perhaps I would have preferred this to be paper to write on with my G2-0.38 but I'll have to dig out a Sharpie. I like the idea though of have two goal sections one could be for personal and the other for work or depending on what want to achieve in your month.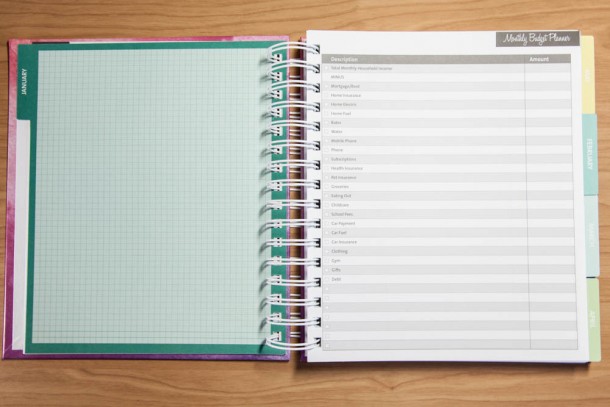 Inside the month tab you have a grid back to the tab, again I would have preferred this to be paper so that I could be jotting down blog post ideas. On the other page there is a monthly budget planner which I think is super handy and I love that it has a lot of relevant bills on here for the UK and plenty of space to add your own.
The month on two pages is a great size lots of space and plenty of room for notes and appointments and a monthly to do on the right handy side with the month before and the month after.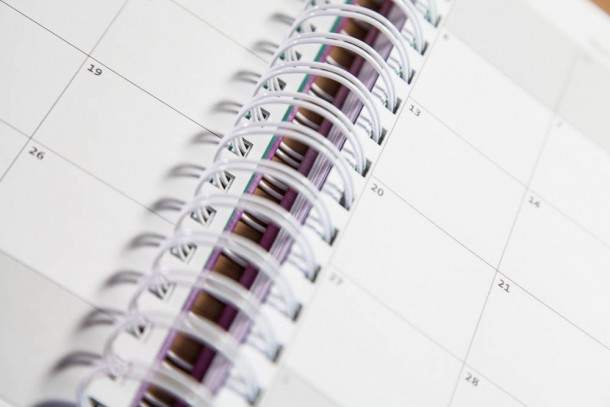 The only thing I would change especial since my week starts on a Monday is; I would love a planner with a Monday start month – not that this detracts from this monthly that is just personal preference. The paper quality on this planner is amazing nice and thick with very little bleed through but I have to do a proper test of pens.
Ahh vertical week on two pages! I love this split into 4 sections and the weekend grayed out and best yet they are all lined!! *happy dance* 2016 is going to be a vertical month for me and this bad boy is going to be split into home, blog, work and Jono. I have missed this type of layout and I'm really looking forward to getting back into it for 2016.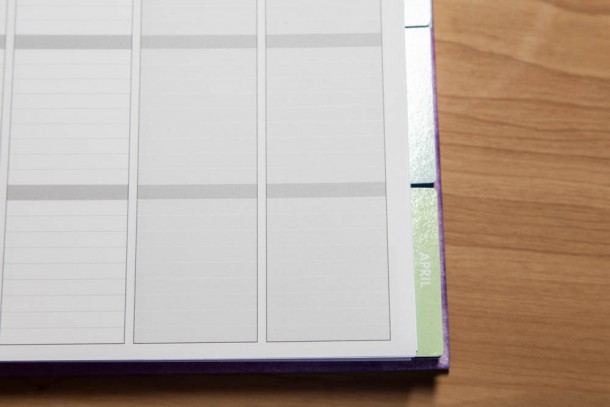 Mmmm lines! Even in the gray boxes! and silky tabbed months. Do you want a closer look  at those? Well BAM!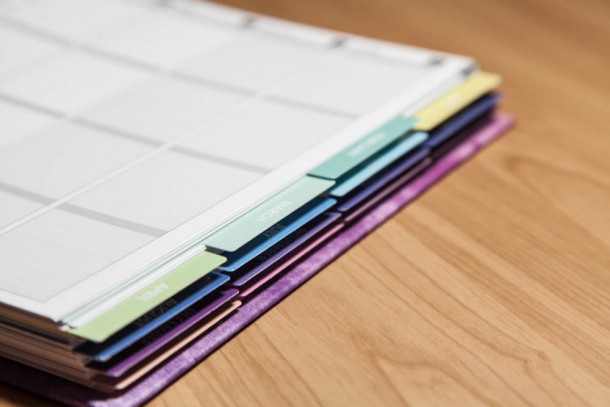 Just beautiful colors and the white text stands out fantastically on the pastel colors.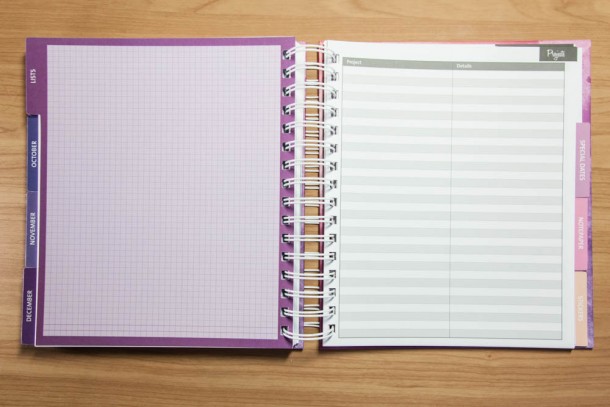 There are a good amount of list in the back of this planner the first being projects. With two columns titled Project and Details so that you can put your game plans together.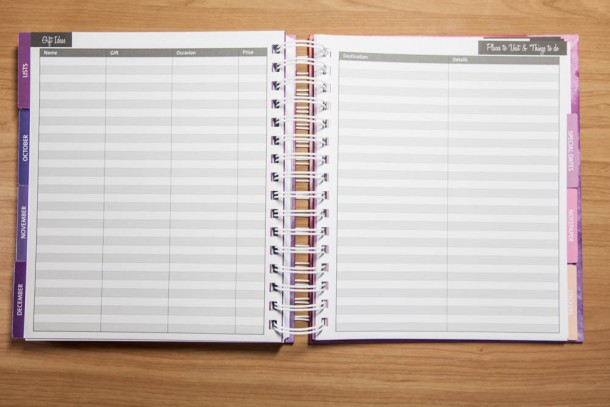 Gift Ideas and Places To Visit and Things To Do – Great if you have little ones that need entertaining through out the holidays. I'll name this to something else as I won't be going anywhere in 2016 expect to try on wedding dresses.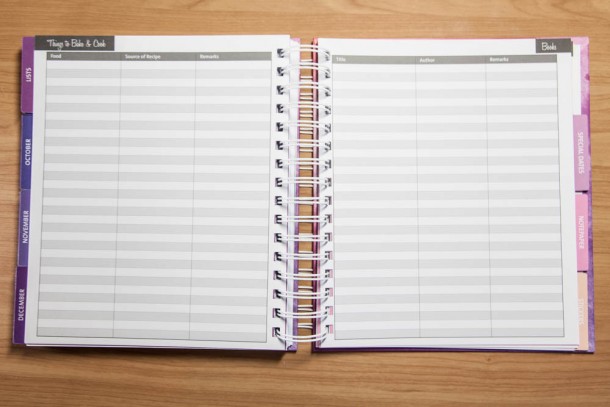 Things to Bake and Cook and Books. I personally not a be baker – I love to cook but I have my own recipe book in the kitchen. Book list however I am there! I want to track what I have read in 2016 so this is defiantly getting put to use.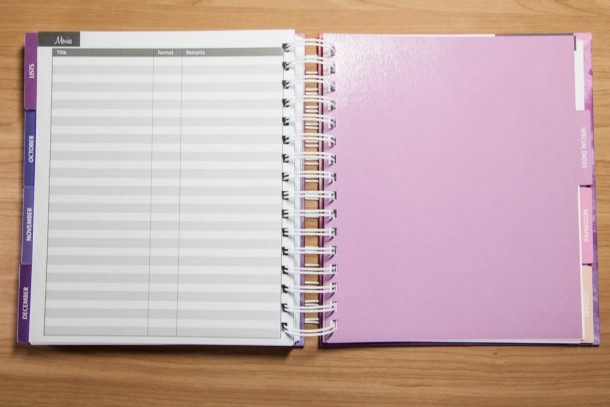 Movies! I have a list as long as my arm on Trello of what movies I want to watch but not of those that I have actually watched so I will defiantly but keeping this list going.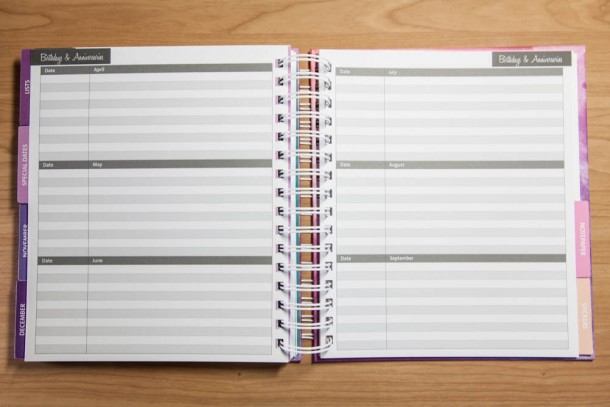 Special Dates section to keep track of birthdays and anniversaries. Which I such at! I only ever remember if Facebook tells me but next year I am determined to send cards out to everyone.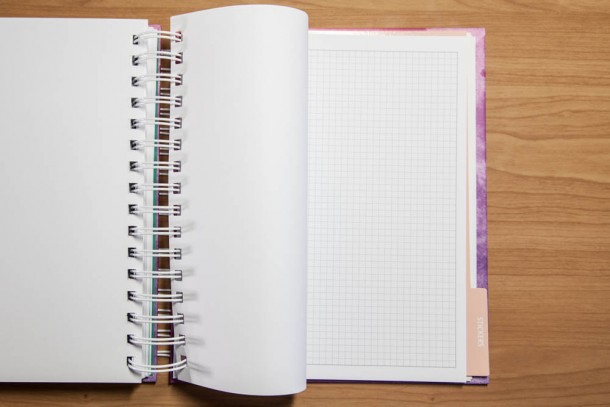 Note pages! I love it when a planner includes a good amount of note pages and you have blank and grid here! I said it before and I'll say it again the paper quality is awesome in this planner I really like it.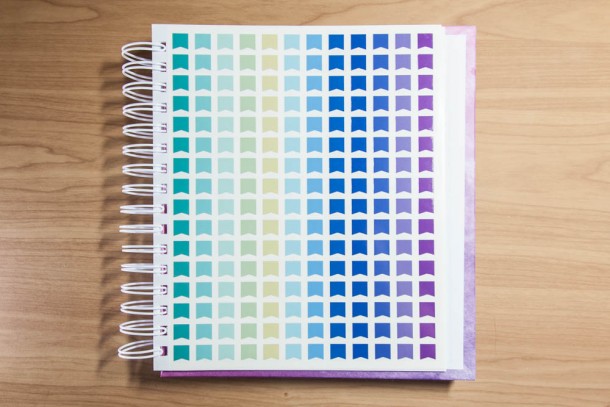 And as you get to the back you get stickers….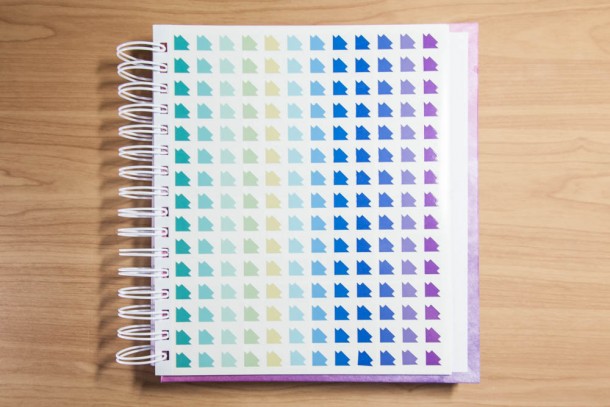 and stickers……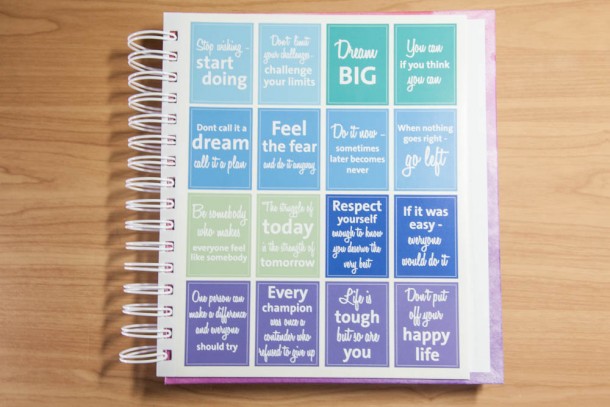 and stickers….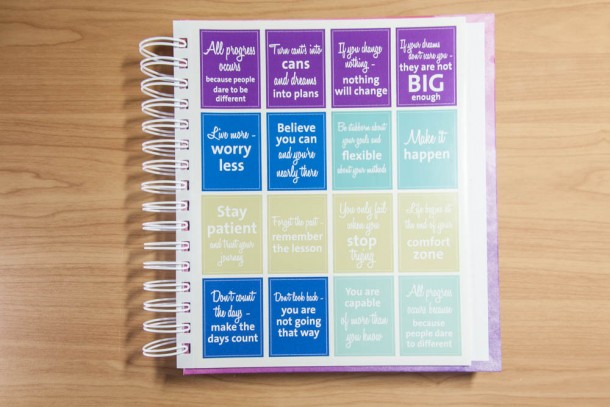 and STICKERS! Girl did not skimp on putting a tonne of stickers in the back of this book for you. They all co-ordinate with the monthly tab colors and they are a nice vinyl and I would defiantly recommend a sharpie for this I used a Sharpie Ultra Fine Point and worked like a dream.
Overall this is a super high contender for my week to week planning and will more then likely get a bashing when it gets thrown in my big. I am a bit worried about the biding coming apart but we shall see how the year goes and if it stands up ruff use.