So you bought a planner. What now? How are you going to use it? There are hundreds of shops out there selling planner stickers, washi and covers. It can be overwhelming to begin with trust me I know, I have been there. I started using a planner about three years ago and I love my planner.
I use a Erin Condren Life Planner (ECLP) and have done for three years though I have had my falling outs with it and then I have fallen back onto my Filofax but I have always gone back to the Erin Condren. So I thought that I would put a blog post together to help you get on your way to planner peace.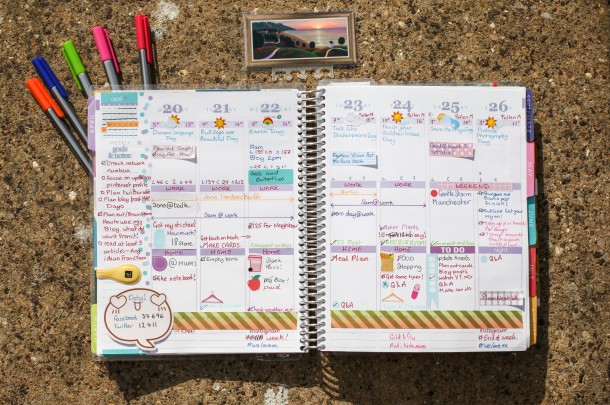 I know that it can be tempting to run out and spend your life saving on cute stickers and washi tape. But I have a few tips for you to help you get started and to hopefully build up to making your planner fun and functional.
Keep it simple to begin with.
Start with just logging things. Appointment, kids babysitters, hair appointment or work hours. See what you are needing to log and just get it in your planner and cross it off when you have done. This is the best way that I have found that you can keep on track and get things done. It will also help determine the type of stickers that you will want to buy or make.
Planning ahead.
To help you plan ahead I would get some sticky notes to help you plan ahead any appointments that you may get. It good to get them in while you are thinking about it and you don't need to write straight into your planner in case you need to move this appointment. I do this a lot with running a business with its own blog and this blog, I forward plan a lot of posts and it helps to be able to move stuff about if need be and plan in other things like conferences.
Pens.
I would suggest getting a good black and blue ink pen. Also get a Sharpie, there are a variety of ones that you can get but I tend to favour this one. Coloured pens, oh my I have hundreds but I would recommend getting a 10 pack of pens and set out a colour code system that works for you. Some good choices for starter pack is the staedtler fine points – stabilo fine points – paper mate flair. These are all great pens but it is really up to you, if you can try to borrow of friends if you can to see which you like to write in and then get a set.
Washi.
Oh washi – there are hundreds of different types of washi you can get. Thin, thick and skinny which to get… Well I would start with some thin washi that is plain and in different colours to help you with planning. I tend to use washi to mark out travel or holidays and I track when Jono is in London. You may find that don't end up using it. If you search on Etsy for washi there are loads to chose from. I get a lot of my washi from a UK based shop called BonBonsKawaii it's a great shop with some fantastic items for sale not just washi.
Stickers!
OH MY GOD! Stickers, there are millions and I mean millions of sticker shops on Etsy. Now I know you want to do.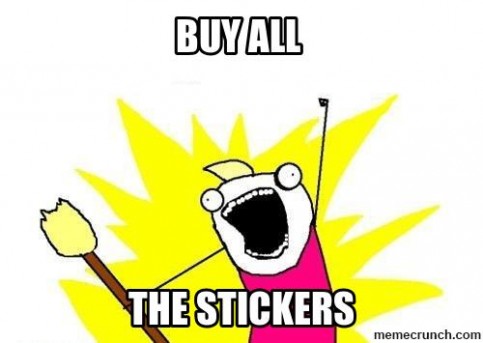 I know because I wanted to do that as well and did. I have hundreds of stickers that are half used and now live in the bottom of a draw and haven't seen the light of day. And I do feel a bit guilty for having them but they are soo pretty and now that I have my planning under control I can now start to reintroduce them into my spreads.
Try to restrain yourself and think why you need the stickers. Start with some functional one, banners flags and half boxes are a good start I would also get some icon stickers as well for things like cleaning and appointments. Then get the fund ones! If you're in the USA then hit up Michaels and if you are in the UK Etsy is your friend. Though below are a few shops that I would suggest for some great stickers that I have bought from before.
Time to start planning!!
Set aside some time at the end of your week to review your previous week to see if there is anything that you have not been able to do and then start planning your week. If you have pre planned then this makes it really easy. Start with your functional stickers and fill in your appointments and if there is a lot of white space don't worry it will fill up over the week. Some people plan daily other do a weekly plan and then daily updates.
Personally I spend about 30 mins each Sunday reviewing my previous week and look for any items that I haven't done. These got put on Monday straight away and then each day I do a brain dump on a night before bed if there is anything floating round my head it's gets put down on paper to be fit into the week.
Everybody has their own way to plan and its worth watching a few Plan with me videos and see how others plan and then adapt it to your needs. Like I said not every plans the same find the things in other that ring true with you and go from there!
I hope that this has helped a bit and that you can get your way to planner peace. Is there anything I missed? What would you suggest to someone starting out? Let me know in the comments below!
Happy Planning.