Can you believe that it is already December! I know where has this year gone. But I have had a super good year and I'll be doing a wrap up of what I have gotten up to this year but today I want to show you how last week closed out and what next week is looking like. And for the more eagle-eyed amongst you may notice a bit of a difference from last week.
Last week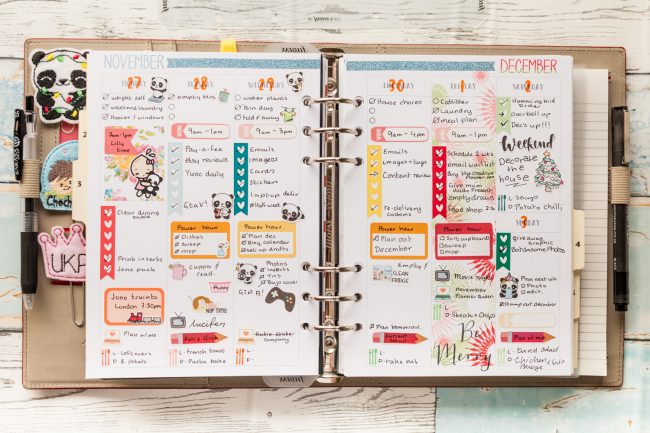 So you may have noticed that my layout has changed from last weeks post. This was mainly because I just did not get on with that layout so I started again and went with a vertical layout which is one that I come back to time and time again. It's just the way my brain works. You should fight against what you know works and I have certainly learned this now.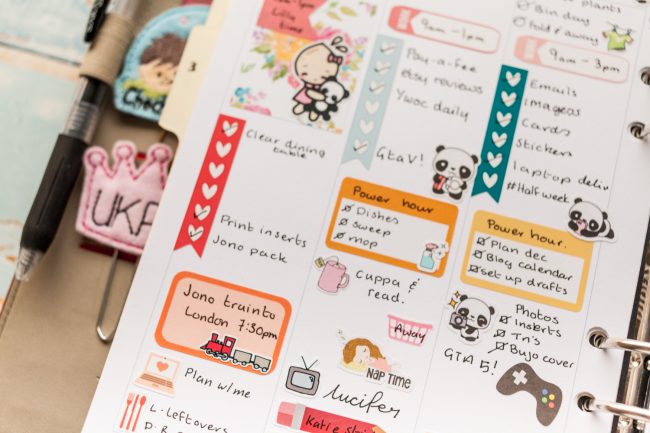 I tend to plan chronologically when I plan a lot of the time you will see a timeline in my vertical inserts. Again this is just how my brain works and I can see how my day is looking and what tasks need to be done. I should really make myself some vertical hourly inserts. That may be a next year job.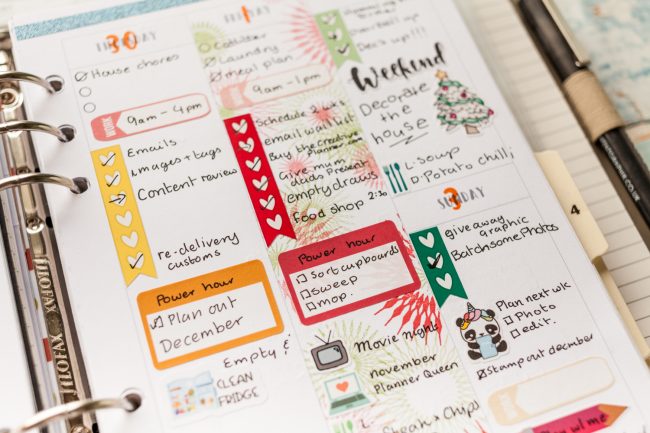 I still did the highlight on the 1st because you know, had to be done! I like how I was still able to write over the top and get my to-do list in there. I also adapted these inserts so there was a bullet journal aspect between the weeks, here let me show you.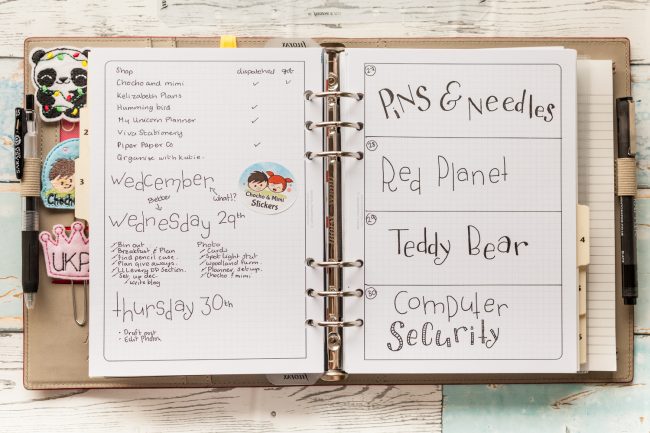 I want to start incorporating my bullet journal into my planner and this really worked this week so I am doing it again this week and I also have an extra sheet in there for my lettering challenges.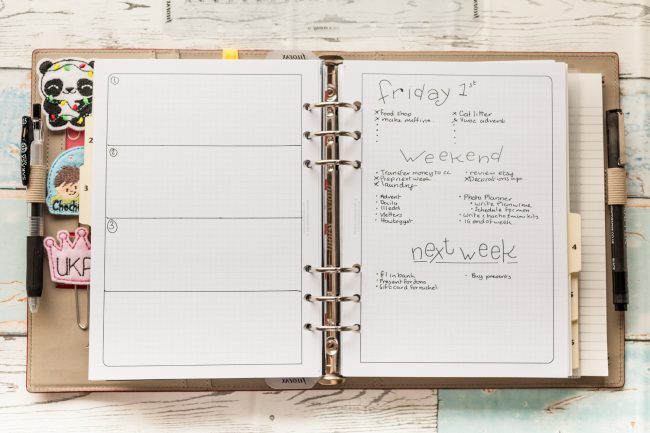 I also had enough space this week to have a little next week section. Which I have jotted a few tasks on. But I am still loving the set up in my planner that I will be sharing with you guys next week, so look out for that. Here is a look at this week kinda before the pen.
This week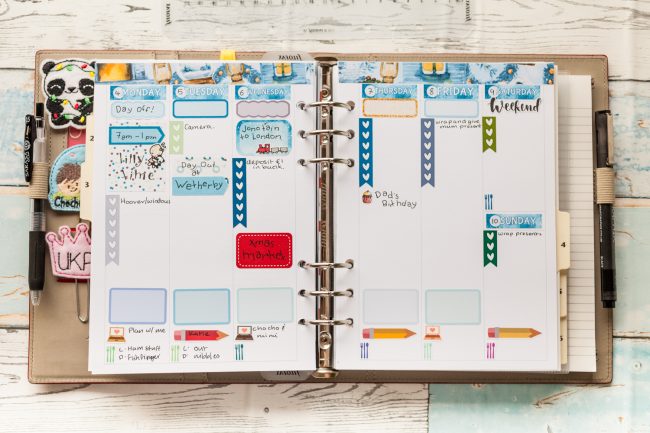 I'm using a lovely kit from Chocho and Mimi, you'll notice that I have set it up kinda the same as last week and you actually notice that throughout this month as I have preplanned the whole of December so that I don't have to worry about what I am doing each week and it also means that I am committed to this layout for the month! I have also set up the middle pages for my lettering challenges so that they are in this planner rather than a separate notebook.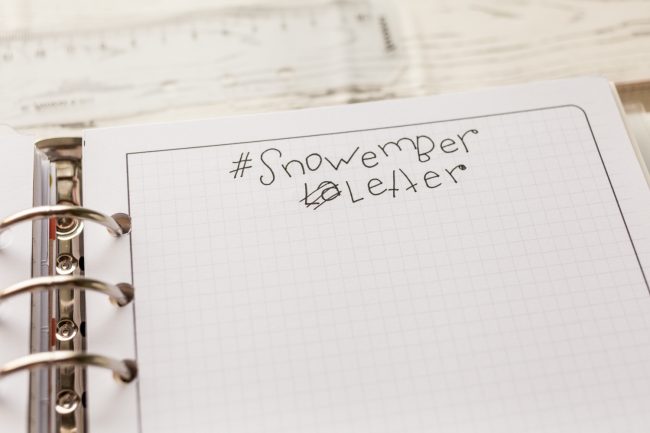 I have noticed over the years with my planning is that if I don't have it in the planner I am using then it tends to get ignored. Yes I know I have a mistake there but I am trying to embrace the mistakes rather this burning through paper in my planner. So expect a few more mistakes turning up.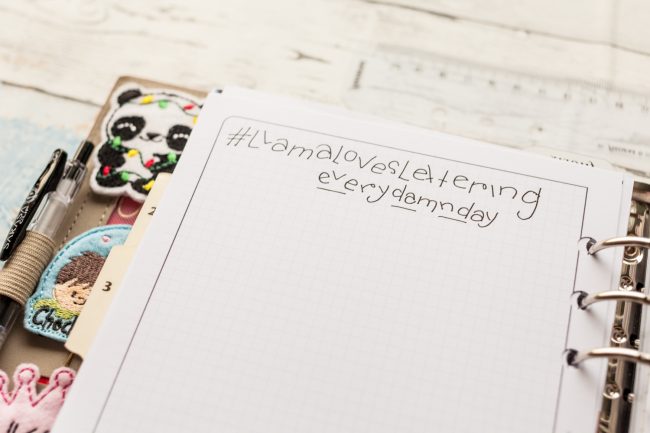 On the back of that page, I have my Llamas Love Lettering Every Damn Day, I am just doing one style of font this month to get the hang of it and I may, in fact, do it in January as well, but slightly modify it. I'm excited to get my Filofax set up fine-tuned to fit my needs, which may end up by having very small but multiple sections! We shall see!
If you want to get you hands on some inserts similar to mine then The Punk Planner has a few in the shop here. You can also get a bit of discount using the code TPPSAM for 10% off your purchase.
And if you want to get your hand on the winter kit you can find it here and use SAM15 for 15% of any order over £10.
That's all from me today! If you like what you have seen here make sure you hit that follow button on the left to get notifications whenever I post bloggity stuff. And you can follow me on Instagram @samplanslife.
Take care of yourselves!
Sam