I love Katie's inserts! I always have, I first bought some printable ones from her in May of 2014. Oh yeah 4 years and still buying her inserts! But this last year she launched her own website with printed inserts, yes no more having to make sure the ink was full in my printer or trying out a million different papers. I could just order straight from her and they would turn up on my doorstep. I actually got these back in the Black Friday sales and I love them. I got a variety of insert including notes pages and calendar pages. So, let's jump in!
Calendar
I'm a big fan of keeping things simple and I love white space planning, you may have guessed that. I knew I was going to stay in my A5 for at least the beginning of this year and to be fair I have. Though I have thought about downsizing a little to a personal but that's another blog post. I love a good to-do list and at the beginning of each week, I write one out for home, blog and work and the big to-do list on these inserts really called out to me.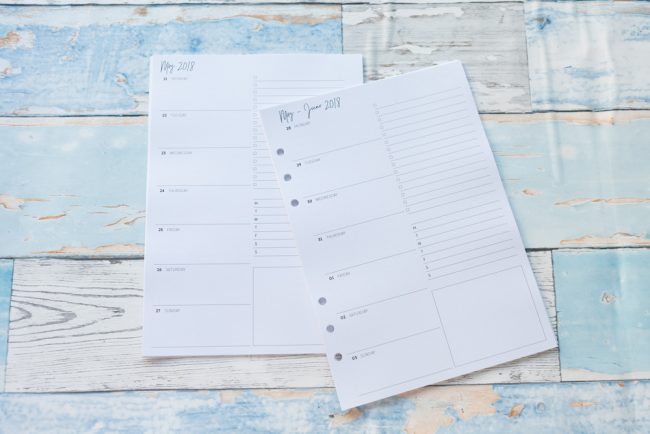 To be honest I have yet to slim my planning down so far as to use these though I am on my way there, currently on a week on one page with notes. you never know by the end of February I will be in these inserts! Katie's inserts are always so clean and simple and so functional that you could just use them as is with a good pen and the paper that Katie is using is just beautiful to touch and after a lot of testing holds you really well to a variety of pens, highlighters and brush pens. Trust me I have tested a lot on this paper.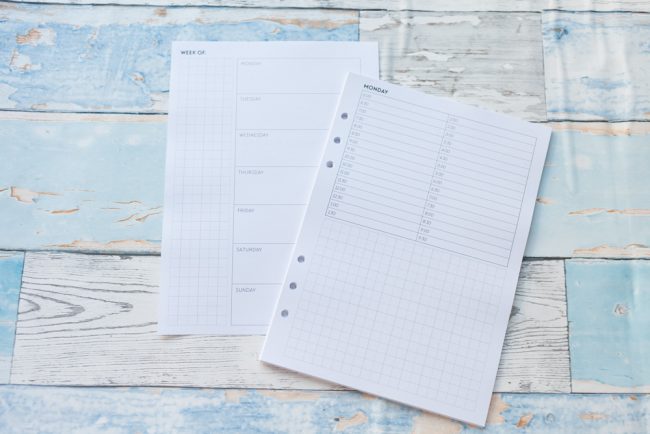 These are the workhorse in my planner. I like to plan out what I am going to be doing each day, as it makes me more aware of what I have to do and what I have done. I have tried to plan my whole week out down to what I will be doing every day but things change and I just can't plan like that. So, dailies are my go-to inserts, with the timed sections I try to log what I am doing when to see if I am using my time the best that I can.
Notes
I love having lots of note pages in my planner as it tends to get taken around the house with me as you never know when I will get hit by an idea. I also got some to-do pages as well as some note paper. Let's have a look at the notepaper first.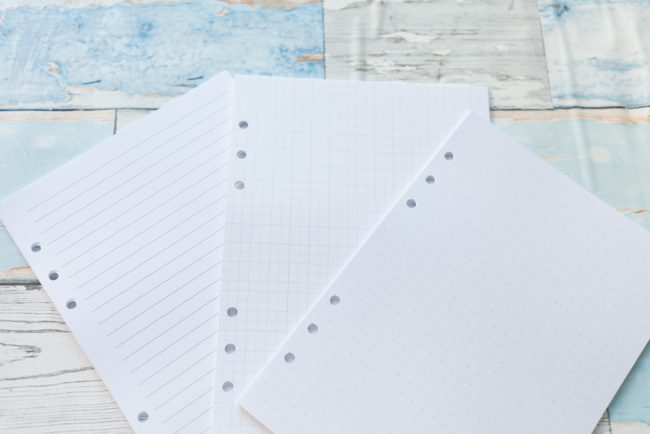 I got lined, small grid and dot grid. I have been using the lined to expand ideas that I have for the blog, the grid I have nearly used it all up I have maybe 5 sheets left. Must order some more. I have yet to use the dot grid, to be honest, the dot's could be closer together for me but they are good for sketching out photo ideas that I have for Instagram.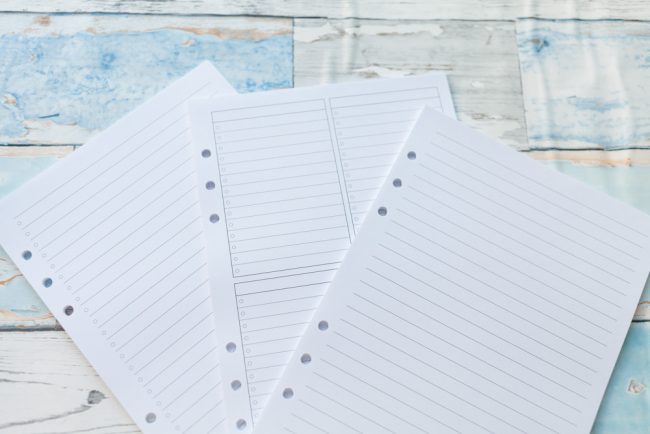 So the main to-do inserts that I got where the full page to-do inserts and I also got these ones that are split into 4 sections that are super handy for when I am doing my brain-dumping on a weekly basis. I am really impressed with the quality of these inserts.
Now the question is will I stop buying the printable version? No, I love the flexibility of being able to print off a few extra pages if I need it. For example the daily pages I will continue to print myself as I can't just print them off at the end of each month, but my weekly ones I have got myself sorted for them not and I don't need to buy any more unless I feel the need to switch it up.
Want to get your hands on some inserts then head here, or if you are wanting to print your own head here!
That's all for me today! You can follow me on Instagram @samplanslife. Or alternatively, you can sign up to get notifications everytime I post. Just fill in that box on the left.
Take care of yourselves!
Sam