Are you taking part? I am, well in a way. I have an a6 Hobonichi as a memory planner that I'll be doing once a day, hopefully, and then my cousin as my daily planner. Which is the one that I will be using for One Book July. So what is One Book July? I hear you cry, well there is a whole playlist on youtube that has videos from each of the founders of this yearly challenge.  You can find the playlist here. You will find the past fours years worth of videos about this challenge and how people have adapted the original idea to work for them.
Today I am going to take you through my set up for the month of July and I am going to precursor this with I have not been able to do one in the four years it has been going. This year I think I have got my shit together. I think!
One Book July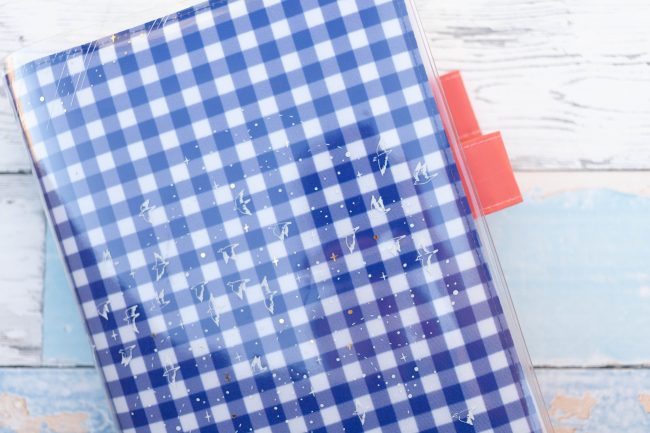 This is my one book, well it's an a5 Hobonichi with three notebooks included. So, technically not one book, but one cover. Let's go bit by bit as to what my set up is.
Cover
So the cover I have is the blue gingham cover. It is a fabric cover so the cover on cover is essential! We all know how accident prone I can be sometimes. Here is what it looks like laid out.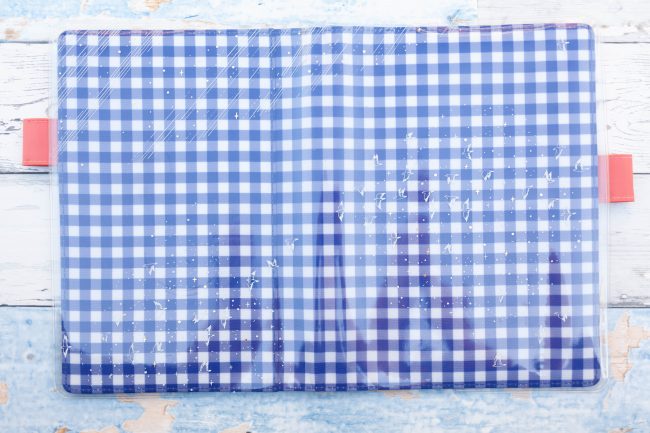 I love this cover! And the cover on cover has loads of birds and bit of silver foil. Here is a peak inside with nothing in it.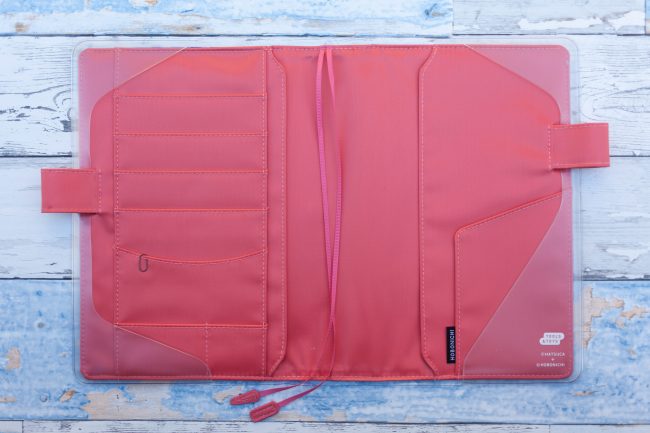 Plenty of pockets and two bookmarks. I tend to have one on my week and one on my day, just for ease of fliping to where I want to be in the book. and talking about the book shall we did into the Hobonichi?
Hobonichi Techo Cousin
I have had a hobonichi on and off for the past couple of years. I much say that it speaks to the functional planner in my heart and gives me the most peace when I get settled in. I think if I were to have just one planner for the whole year it would be my hobo in my A5 cousin.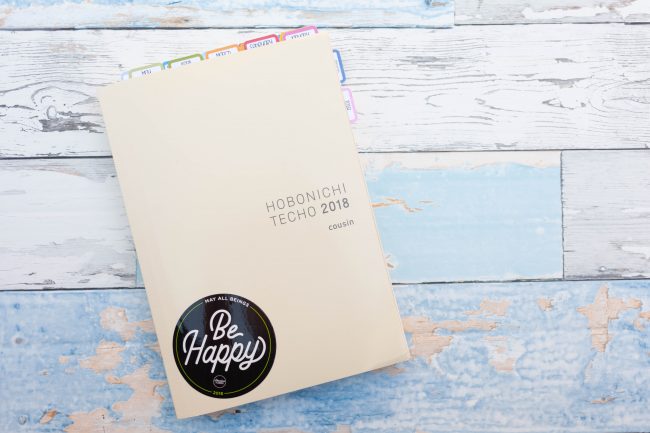 I just love everything about it the size, paper and layout really make me feel at home. One of my hopes for this month is to truly get back to my roots as it were with planning on a very functional basis. While I love stickers and washi I am such a Bullet Journalist at heart that the Hobonichi really fits that need. Shall we have a look inside?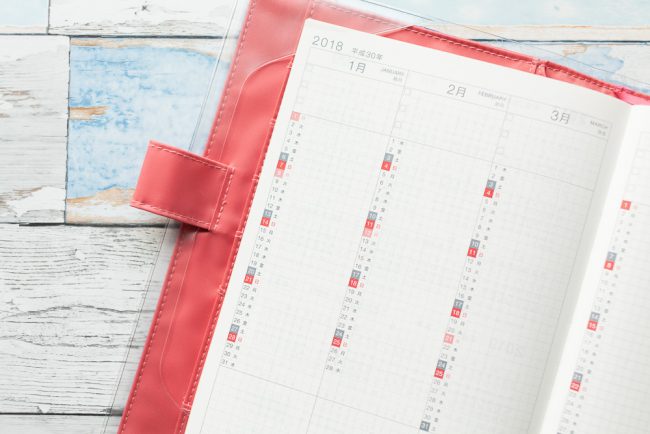 I like these vertical months as I am going to be using them as my pr calendar and to keep track of my social media. I have started to feel a bit disconnected with my social media and that I am a bit all over the place. I recently changed the name of my Instagram so that it is more me and my life rather than just a focus on planning. Don't worry I will still be sharing a lot of planner photo's there will just also be a lot of life photos as well and travel photos. But that's another blog post.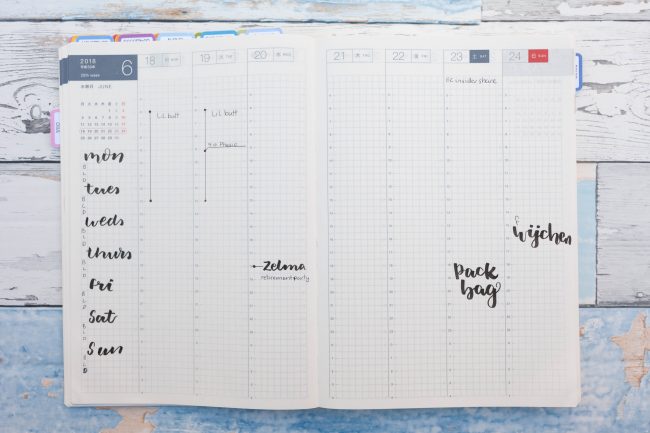 These timed weeks are where I am going to be tracking mine and Jono's appointments and travel. You may have noticed that I have done a lot more travel this year than in the past. Need to be tracking those travel times.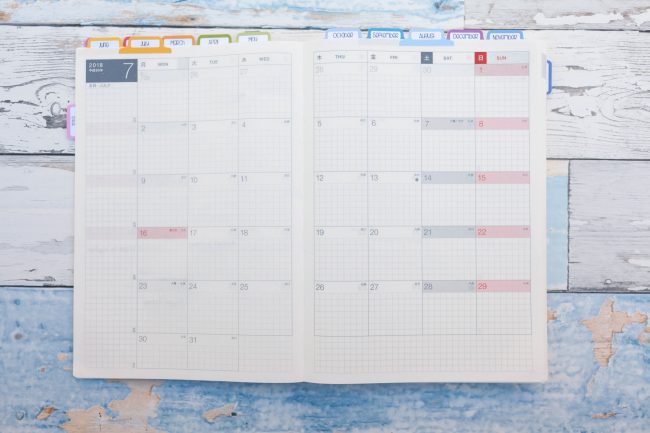 I love a good monthly page and this one is no exception. As it starts on a Monday and the weekends is together which I love! Other planners have the month start on a sun and then the week start on a Monday, which has never really made any sense to me but who am I to question!?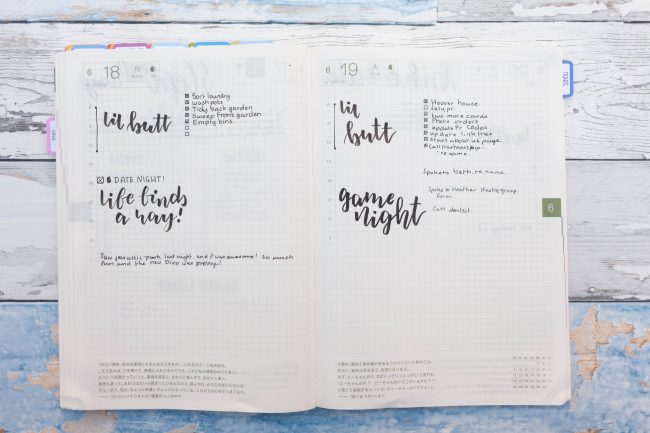 Dailies! Be still my heart! I love daily pages, I can get super detailed with my lists and then I can colour code and all sorts! I love a good daily page and with the Hobonichi you have a years worth of daily pages. I love this!
Extra notes
With the Bullet Journal system, there are a lot of collections and note pages that come into play and you may be wondering where I am going to be keeping all the notes. Well, I have a couple of extra notebooks that will slip into the back of this cover.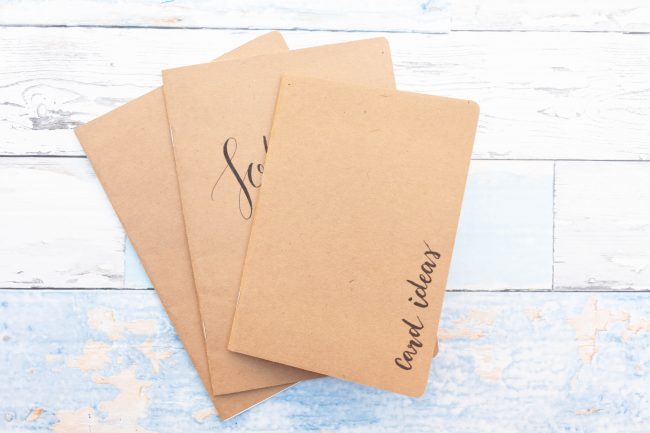 The blue one is going to be my collections and notes book and the yellow as you can see is going to be my card ideas book. Being on the Skull and Cross Buns design team means I can start sketching out ideas and gather inspiration pieces.
Pens
The green stencil is my fave and I have about 4 in my stash as I broke my last one so I got a few extra. I also have the Hobonichi pencil board as well just make sure I don't dent the paper too much.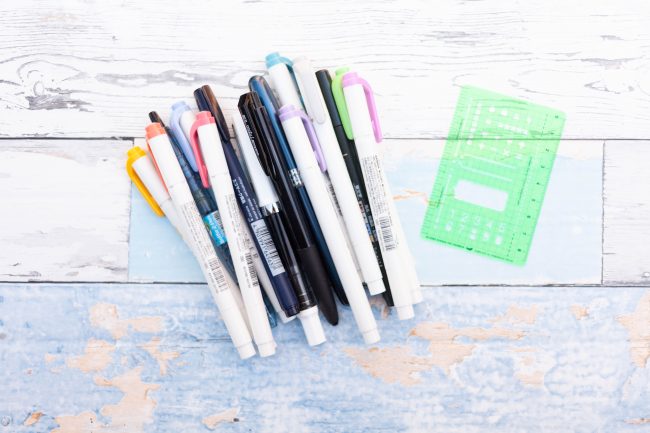 The two pens that I will be using for this month are the Pilot B2P which takes the refill from the G-2 range so I have a 0.38 refill in there. My other pen is a Tombow fudenosuke soft tip. I love both these pens and they work really well on the Tomoe river paper.
And that is it! That is my setup for the month of July, what will you be using for the month of July? Let me know in the comments below.
That's all for me today! You can follow me on Instagram @samalderson_. Or alternatively, you can sign up to get notifications everytime I post. Just fill in that box on the left.
Stay Happy!
Sam