You may have noticed that a few weeks ago I shared my TN upgrade if not you can find the post here.  I thought today I would walk you through how I distressed my tn's. Now, this is not for the faint of heart and you need to really, I mean really want to do this to your tn. So, once you are sure you want to do this, grab your tn and I am going to show you how to turn it from this.
Into this!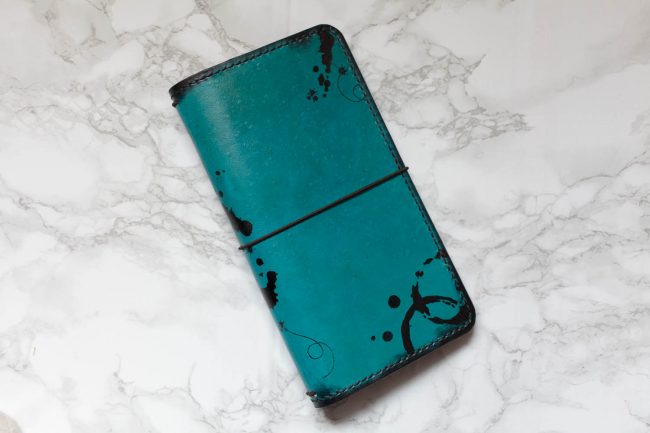 Oh yes, it can be done and I could not be happier with the results! Like I said please make sure you want to do this to your tn because if you muck it up you will be kicking yourself. You ready? Okay, let's go!
Prep
I started by giving my tn a once over with some conditioner and a dry cloth to buff it up and make sure that the leather is dry. I did this the night before so that I knew that the leather would be dry the next day. Next, unstring your tn, that elastic is going to create bumps that you don't want. You want to be able to hold your tn as flat as possible.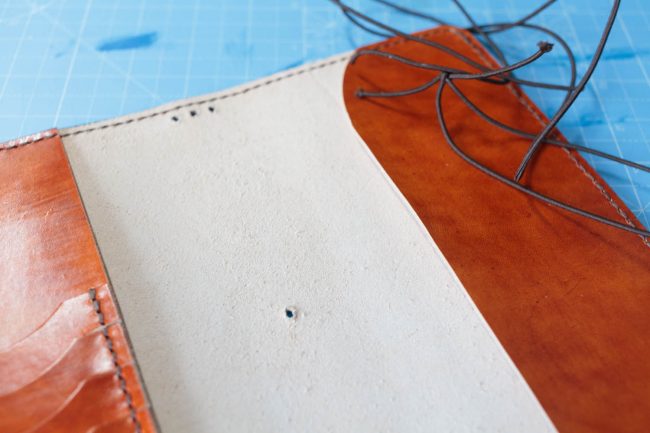 This is easy to do, but, do take note of how it is strung so that you can redo it when you're finished. So that's all the prep you need to do. On to the tools.
Tools
I am using a Tim Holtz stencil that you can find on Amazon here, along with some StazOn ink which you can get here, and a bit of sponge, find a piece of soft sponge. Anything that feels scratchy will ruin your leather. These are all the tools that you will need to get the job done.
Time to ink
I started with the edges as I didn't want a mistake to be on the front where it is obvious, and I started with small brush strokes across the edge of the cover.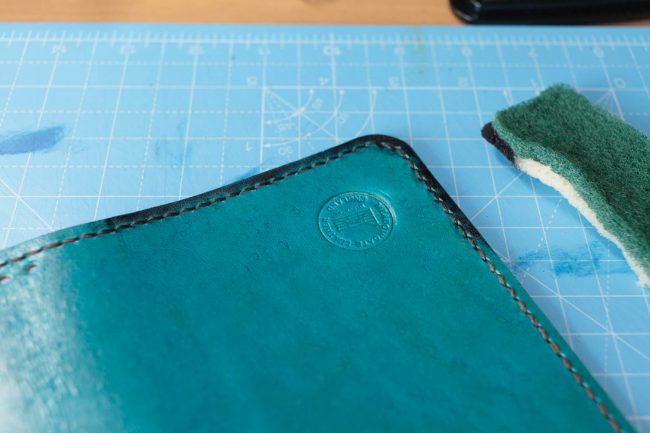 You can also use small circular motions to get an even finish as well. Once you are comfy with the motion, work your way around the edge of the cover. One thing, I can stress enough is once you have opened your ink keep it on your desk and move your sponge because if you pick up that ink pad you can guarantee that you drop it on your cover and kick yourself. Leave the ink where it is! You will thank me later.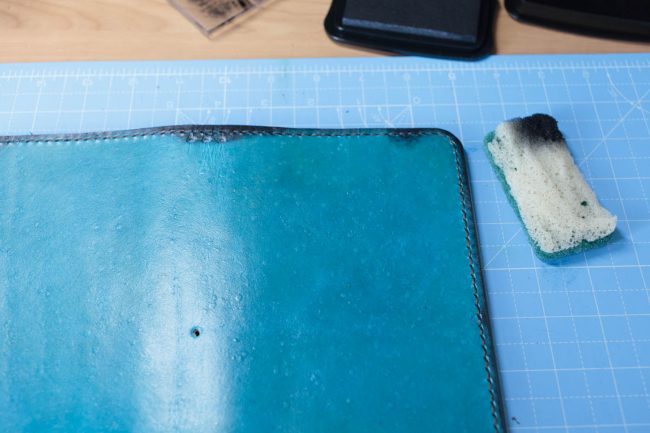 Working your way around the edge you can start to gauge how much ink is on your sponge and you can then start to bring some of the ink into the body of the cover like the photo near the string holes.
This is again personal preference you don't have to do this but I thought it would look cool and add to the aged effect of the cover. Once you have done round the whole of the cover and you are happy with it, it's time to stencil.
Stencil time!
This is where you are going to need to be left alone, no one can disturb you doing this. So make sure everyone is locked out or distracted with other things. Start by placing the stencil in different places to try and get a feel for where you are wanting to put the rings and ink splats.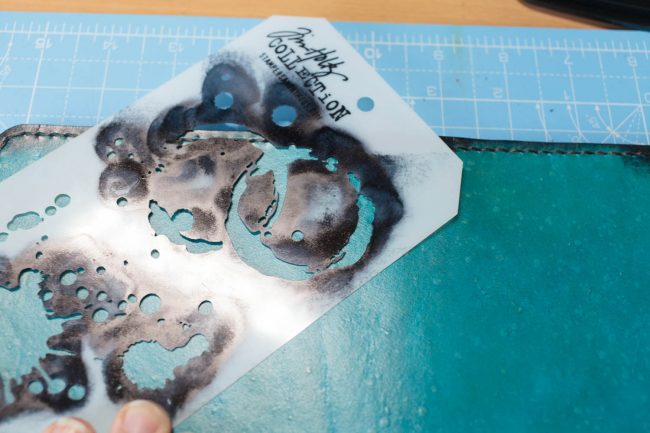 With your non-dominant hand hold down the stencil firmly with enough room to get to where you need to with the ink. Load up your sponge and then start to dab lightly just to get over the initial shock of doing this to your planner. Once you have done this a few time rest the sponge on the stencil and start to do small circles. This will help with ink distribution. When you lift up your sponge keep the stencil in place and look at the coverage. Is it black enough? Does it need more? Repeat as necessary.  Ink, circle, check. Happy? Once you are happy with how that one looks, move the stencil to the next spot and repeat.
Now you can do as many or as few as you want this is up to you and how much you are willing to do to your cover. This is all personal preference, you are making this your own! And you don't have to stop at the outside I decided to do a couple of spots on the inside as well.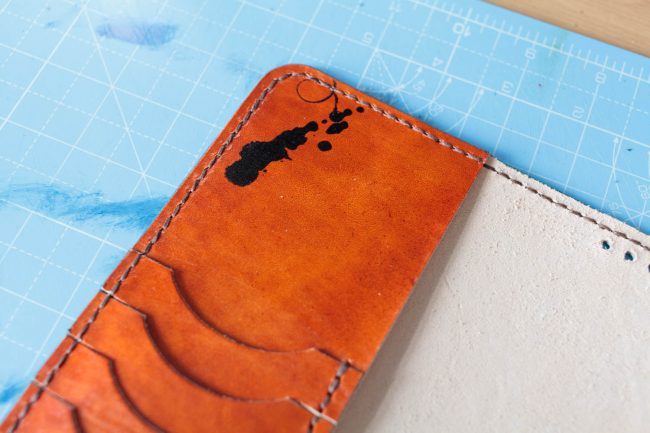 I think this really made the notebook I didn't wipe the inside edges I just did the ink splats.
This really makes this tn unique now and truly mine. Once you are done give it one last look over, do you want to add more? Is that enough?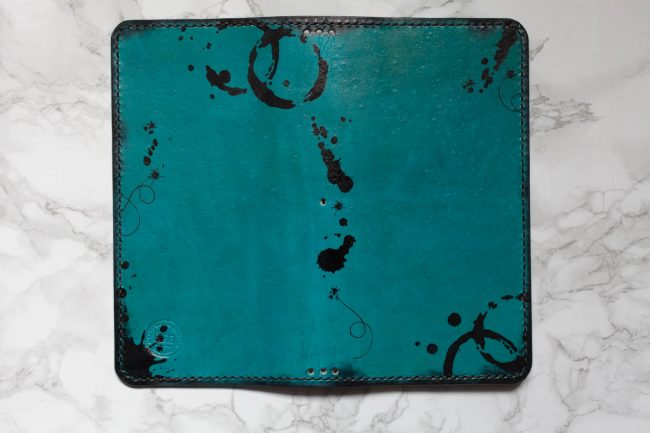 I must admit I was having far too much fun with mine and went a bit over the top but I LOVE IT! Once you are happy re-string you tn and it is ready to use. The StazOn ink dries very quickly so you can use straight away. However, if you want to wait then do, again, personal preference.
You're done!
Now that wasn't too scary, was it? Haha I know how you feel this was the second one that I did, so I learned from my mistakes on the first one, but those mistakes make Little Blue even cuter. Here is a look at Hera restrung.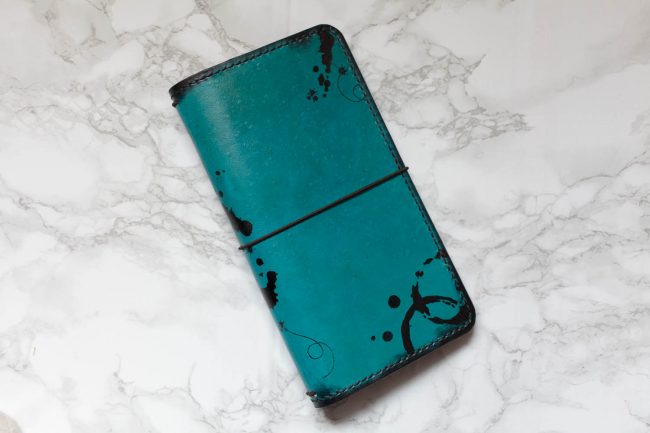 I love her, she is stunning! Here is a look at the back.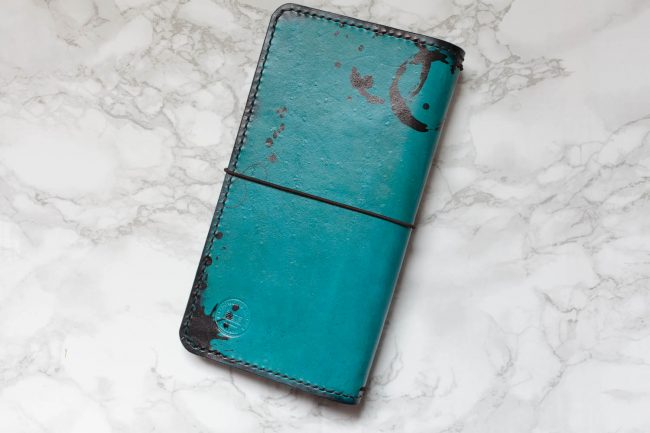 And a little bit of detail.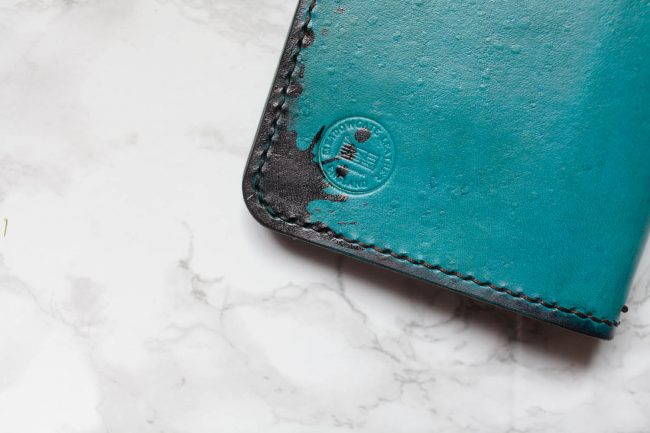 This was such a scary thing to do but cheaper than buying a Chic Sparrow and this is more me now. Hera is perfect and I wouldn't change that for the world! I really hope that you enjoyed this and that you give it a go yourself if you do tag me on Instagram @samplanslife.
That's all from me today! If you like what you have seen here make sure you hit that follow button on the left to get notifications whenever I post bloggity stuff. And you can follow me on Instagram @samplanslife.
Laters!
Sam