It's soooo pretty!! If you know me, you know I love technology, and I love my Kindle. I have no idea where I would be without it, well I do I would have hundreds of books and a room filled with them. Well I would be Belle, no joke best bit of that movie is him giving her that library!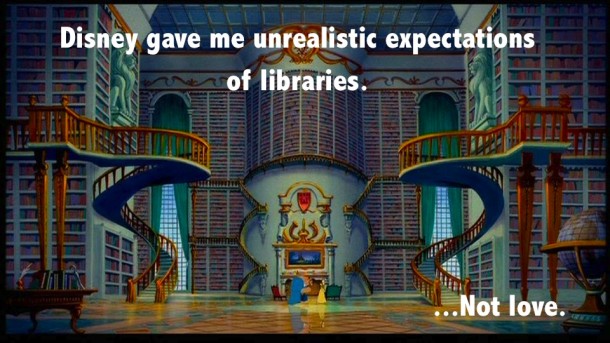 I have always love reading and the Kindle is a fab little invention and I don't know what I would do if I lost it (which I have before) or broke it (which Jono has done). It has evolved over the years and personally the latest generation is the best of all the ones that I have owned. Don't get me wrong I have loved each one but each had its flaws. I actually got my first Kindle in 2011 and it was that keyboard version.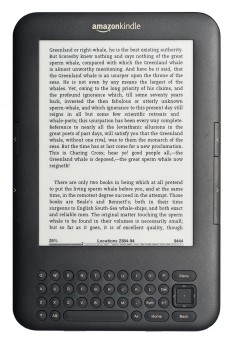 I loved my first Kindle and I took it everywhere with me and it did take a beating. But it was big and you had a button to click on to turn the page and then there was a hundred buttons on it, but I loved it! It was about £100 and had to convince Jono that it was a good idea to get it, as the amount of books that we were both going through was a bit silly and we would really have to have a library.  So we each had this Kindle and we both took them everywhere! Literally, you would be surprised at the amount times we read in the bath with it, but we never dropped it it; no a far worse fate was for this Kindle. Jono was commuting to Leeds every day when we had this one and he broke it a few times, Amazon were great though and replaced it a few time for him but then the new version came out.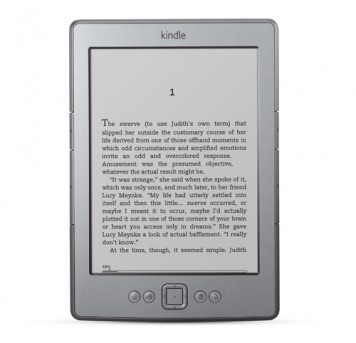 And Jono broke his keyboard Kindle so he got mine and I got the new one with fewer buttons! This was a great improvement on the keyboard version and MUCH lighter and easier to hold in the hand and again I loved it. Eventually Jono broke my old keyboard version and we bought him a new one of these Kindles and also got him a case for it as he was still commuting to Leeds but this is the first version that he didn't break. It was much more robust and definitely took a beating. But then we moved house. I know what you're thinking what has that got to do with it but I lost mine in transit and when you see how far we actually  moved your will laugh!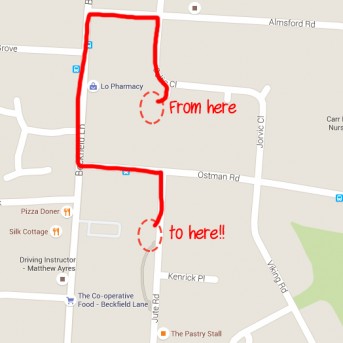 0.4 miles! Less than a 5 min walk! In that .4 of a mile I lost a Kindle, I don't know how but I did. Now you're probably thinking "Have you emptied all your boxes?" Yup no boxes left over everything has been gone through at least three times. I have no idea where the heck that Kindle went not a clue. So as a moving in present to ourselves we bought ourselves the Paperwhite.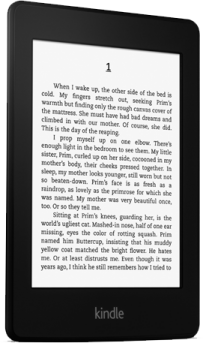 Now this was a sexy upgrade! This has a built in light, touch screen interface and only one button at the bottom to turn it on and off! Love it! But still awkward to read and when you go for a bath the screen steams up a bit and can make the screen lag a bit. But this is a Kindle for night time readers, like Jono he is very much a night owl and I am much more productive on a morning. It was handy though for those night when I just couldn't switch off and playing a game just didn't help. As one of the most robust Kindles I have had why would I upgrade to the new one!? There is a bit of a story behind this. Jono had gone to Germany for work and of course took his Kindle with him, no biggie, we have take our kindles on holidays with us before because what else are you going to do on the plane. However when he got home "Where's my Kindle?" – oh no – he had left it on the plane when coming home! So after about half a dozen emails to the airport they confirmed that they had it, but would not send it out of the country, WHAT!? He offered to pay for the posting to us they said no the only way that they could release is that we had to pay for a courier to go and pick it up from the airport and then bring it over to the UK. Now this is the short version it has been going on for about 5 weeks. Trying to get a courier to get the Kindle and bring it over was going to cost the same amount as just buying a new Kindle. Jono tried for a bit longer and he was really not happy and very lost without it, so I said to him if he can't get it sorted I'm just going to buy the new one and you can have my old one. "No just one more try" Okay I couldn't say no he was try but they were being stubborn. But in the end he gave up and we bought the new Kindle Voyage.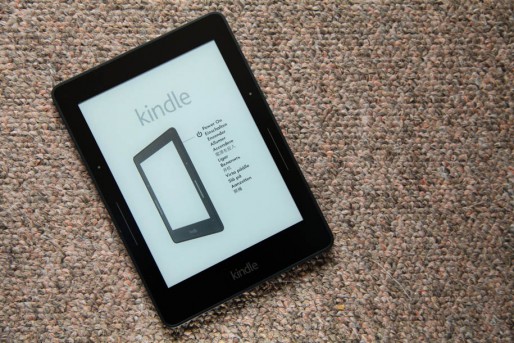 Hello Sexy! OMG this is how the Kindle should always have been. It is soooo pretty! The improvements to this new generation is amazing. The new PagePress feature is great just a small press and you get a bit of a haptic feedback that lets you know that the page has been turned. It has a sensor in the front of it to adapt to the light levels around you to adapt to the best light level, and when you read the Amazon page about it they say "When reading in the dark, the adaptive front light slowly lowers the display's brightness over time to match the way the eye responds to darkness." A-MAZ-ING! It sits really nice in the hand and there is a slightly rubberised edge around that makes all the difference when you are reading at a strange angle. This has to be the best Kindle I have ever owned. I don't actually know what they would do to improve this. I have no complaints at the moment with it, but only had it a few days.  So far I am really happy with it and Jono is happy to have a Kindle back!
Do you have a Kindle? What do you love about it?